Meeting Focuses on Need for Policies that Support Family Farmers, Affordable Healthcare & Strong Local Government
STAPLES, Minn.— If the 2018 session of the Minnesota Legislature is to advance policies that support rural communities, then lawmakers need to support family farmers, affordable healthcare and strong local government, according to a group of farmers and other local residents who participated in a Land Stewardship Project (LSP) state policy meeting in Staples on Feb. 12. The meeting was organized to get input from area residents about what LSP should prioritize during the session, which begins Feb. 20.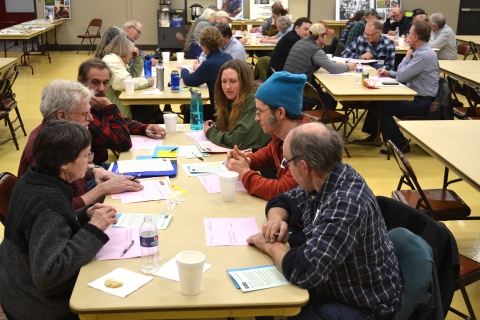 The meeting began with a group of LSP members sharing "A Vision for Rural Minnesota," a document that was developed during the past several months as a result of input by hundreds of rural LSP members from across the state.
"We are rural Minnesotans," stated the document. "We love our communities and take pride in them, and we are stewards of the land and the world around us. We also acknowledge the challenges we face, in our communities and across the state… We are hopeful and committed to building a strong future, working together within our communities and with people across the state."
Of special concern and discussion was the rural healthcare crisis, which impacts farmers and other rural residents, especially those who do not get quality health insurance through their employer.
Kate Droske, an LSP member from Sauk Centre, Minn., shared the portion of "A Vision for Rural Minnesota" that relates to healthcare: "We need health insurance coverage that is comprehensive, lifelong and available regardless of a person's work. This coverage must be available at a cost that each family can truly afford. We need quality medical care to be available close to home and when we need it."
"This vision will be shared with candidates, legislators, and neighbors—asking them how we will work together to make this vision happen," said LSP member Sylvia Luetmer of Alexandria, Minn. "It's up to us to achieve this vision through organizing, conversations and commitment."
Using "A Vision for Rural Minnesota" as a launching point, meeting participants came together to shape LSP's next big policy initiatives. Feedback and brainstorming from across the state will heavily influence LSP's work this session and in the future. Having policies created and supported from the ground up is core to the organization, according to LSP policy director Bobby King.
It's important to communicate these priorities to lawmakers, since there have been significant efforts to undermine healthcare, local control and environmental review during the past few legislation session, said King. During the 2017 session, LSP was successful in protecting rural rights, local control and environmental review. LSP also worked to pass the Minnesota Beginning Farmer Tax Credit and secured $1.5 million for Forever Green, a University of Minnesota program researching and developing more sustainable crop options.
"It was our members that got this done," said King. "We were able to make rural Minnesota heard at the Capitol because people made calls and showed up at the Capitol. The 2018 session will be a tough fight, so we need people in communities like this speaking out more than ever."
In response, meeting attendees said they will call upon their legislators to stand strong on rural rights and local control, as well as environmental review, and Minnesota Care.
During the past 12 years, a key way for rural residents to be heard at the state Legislature is by participating in the Family Farm Breakfast at the State Capitol. This has become a popular venue for citizens and lawmakers to come together over locally produced food and discuss policy issues. This year's breakfast will be held on April 5.
"If you want to be heard, I would encourage everyone to attend this exciting and important event," said LSP Member and Wadena County Commissioner Chuck Horsager.
-30-