The Land Stewardship Project's Soil Builders' Network is developing a series of short videos highlighting how farmers are utilizing cover crops,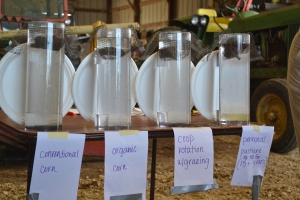 rotational grazing, diverse crop rotations and no-till to build soil health in economically viable ways. We will be adding videos to this page as they are produced. Here's what we have so far:
• Benefits of Soil Health with Farmer Rory Beyer
Organic dairy farmer Rory Beyer talks about how integrating cover crops and grazing livestock into his operation has helped triple organic matter levels and built resiliency in the face of extreme weather.
• Grazing & Soil Structure: The Connection Between Cattle & Water Infiltration
Mark Erickson of Grant County in west-central Minnesota shares his farming experience going from conventional corn and soybean production to grass-based beef on rented land.
• Climate Change Solutions Start with Farmers
Rory Beyer, an organic dairy farmer in southeastern, Minn., talks about the impact of climate change on soil health and farming practices.
• Music Videos
In 2020, LSP commissioned Minnesota musician Bret Hesla to write and perform a couple of music videos that sing the praises of building soil health. Check out "Got Cover Crops" and "Back to Soil" here.
• Next Generation Farmer: Moving Cattle, Making Fence, Building Soil
Abby Steinfeldt shares her thoughts about the changes happening on her family's southeastern Minnesota farm and her hopes for the future.
• No-Till & Cover Crops with Farmer Rod Nelson

A recorded online field day talking about no-till and cover cropping practices with farmer Rod Nelson of Chatfield, Minn.
• Soil Health & the Next Generation
Farmer John Snyder of Preston, Minn., shares stories about using soil health practices, what he has seen during his time farming, and the future he's trying to create for his grandchildren.
• Planning for the Future
Southeastern Minnesota farmer Mike Krause talks about changes he is making to his soil management as a result of climate change.
• Your Biggest Asset is Your Soil
Southeastern Minnesota farmer Dan Miller describes how integrating livestock into his family's operation via grazing allows them to protect and build their farm's most critical asset: the soil.
• The Slake Test Doesn't Lie: Farming, Flexibility & Soil Health
How dairy graziers Adam and Amanda Bedtke's ability to remain flexible and their focus on soil health have generated economic and quality-of-life benefits.
• How Composting Builds Soil Health on One Minnesota Crop Farm
Paynesville, Minn., organic crop farmer Oluf Johnson describes how his family is using large-scale composting to build the population of "good bugs" in their soil.
• Slake Test Shows the Power of Soil Health on the Rupprecht Farm
For years, Land Stewardship Project members Mike and Jennifer Rupprecht have been utilizing managed rotational grazing and diverse crop rotations to build the health of the soil on their southeastern Minnesota farm. This time-lapse video of a slake test shows that it's paying off in terms of soil that has excellent aggregate structure when exposed to water.
• How Robb Miller Uses Triticale as Soil Armor & Cattle Feed
Southeastern Minnesota dairy farmer Robb Miller describes how he uses triticale to build soil health and as a source of cattle feed.
• Planting Green with Farmer Curt Tvedt
Curt Tvedt from Byron, Minn., explains how he plants soybeans into a living rye cover crop to keep the ground covered, improve water infiltration, suppress weed growth and feed the microorganisms in the soil.
• Soil Health Practices for a Changing Climate
Martin Larsen talks about how extreme weather is affecting his community and how he is utilizing practices like cover-cropping to build resiliency on his farm.
• Farmers Talk About Climate Change
Farmers talk about the challenges posed by climate change and how building soil health can help make their operations more resilient.
• How Do We Stop Erosion?
TJ Kartes of Saddle Butte Ag talks about how cover crops can help "armor" the soil, preventing erosion and fertilizer runoff.
• Cover Crops & Tile Lines
TJ Kartes of Saddle Butte Ag talks about the issue of cover crop roots plugging farmland drainage tile lines.
• Seeding Cover Crops
Southeastern Minnesota farmer Tom Pyfferoen shows how he sets up his old planter for seeding fall cover crops.
• Multi-Species Cover Crop Mixes
TJ Kartes of Saddle Butte Ag talks about how cover crops can help "armor" the soil, preventing erosion and fertilizer runoff.
• Grazing Cover Crops
Kaleb Anderson describes how he uses the grazing of cover crops to heal and build soil health, and generate income.
• Conservation on a Dime
Southeastern Minnesota farmer Ed McNamara describes how he modified used equipment to build a low-cost planter that can interseed cover crops into standing V6 corn.
• Cover Crops and Tile Lines
TJ Kartes of Saddle Butte Ag talks about the issue of cover crops plugging farmland drainage tile lines.
• Soil Health Workshops
A 5-minute overview of how LSP carries out our soil health workshops in southeastern Minnesota, focusing on a Feb 15, 2017, event in Caledonia that featured Dr. Kris Nichols of the Rodale Institute.