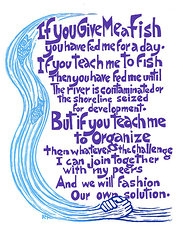 — "Give me a fish," Ricardo Levins Morales
Beginning farmers organize to build a society where family farms and human rights can flourish.
The sustainable agriculture movement is one of the most vibrant movements of our time. It has united people all across our society, and this group of people has an opportunity to build power and win change.
We have an opportunity to hold OUR institutions and elected officials accountable to our values and ensure that they are acting to the benefit of human rights, healthy land and waterways, strong rural communities, and delicious food and fiber. Building people power through organizing is our most sound and proven strategy. Communities around the world have won change for themselves and the earth through organizing, and we've seen it work here at LSP for the past 32 years.
In order to get farmers on the land on the scale that our society needs, we have to change the policies and institutions that shape agriculture in the U.S.
So join us! LSP's Farm Beginnings will have lots of opportunities for you to plug in, and our organizing depends on your leadership.