How a Safety Net Became a Farm Policy Disaster: White Paper No. 3
The future of our rural communities and the growth of some of the most promising sectors of our food system rely on a major influx of beginning farmers (defined by the USDA as farmers who have been producing on agricultural land for less than 10 years). U.S. Secretary of Agriculture Tom Vilsack has called for federal farm policy that has a goal of getting as many as 100,000 new farmers started during the next few years. Unfortunately, a key agricultural policy tool, crop insurance, serves as a major impediment to this group of farmers.
It does this in a couple of ways: first by inflating land prices and cash rental rates to the point where beginning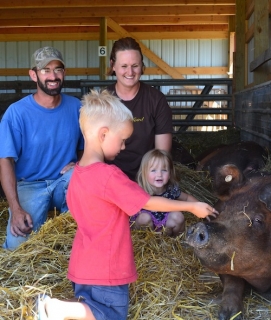 farmers with limited financial resources are priced out of the market. Secondly, the current structure of crop insurance causes lenders to view beginning farmers as "high risk producers," limiting their access to capital. Numerous studies and surveys have shown that lack of access to land and capital are the two biggest barriers to getting started in farming.
For almost two decades, the Land Stewardship Project's Farm Beginnings Program has been training people who are interested in farming systems that utilize cutting-edge production, marketing and business planning methods. This community-based initiative has been so successful that it was recognized as "a model that is creating strong new farm businesses across the country" by Kathleen Merrigan, then U.S. Deputy Secretary of Agriculture, in her 2012 remarks to the Beginning Farmer and Rancher Development Program directors. However, LSP has become increasingly troubled by the fact that even the mostly highly-trained, motivated farmers are finding it next to impossible to launch their agricultural businesses due to lack of access to land and capital.
As part of our investigation of federally subsidized crop insurance, the Land Stewardship Project conducted in-depth interviews with beginning and established farmers from across Minnesota. These farmers verified that crop insurance plays a major role in limiting access to land and capital, which is threatening the future of our rural communities as cropping operations become larger and fewer, and the average age of the American farmer creeps toward the six-decade mark.
"It feels like land prices are pushing farmland ownership for us right out of range. If it's doing that for us, it's doing it for a whole lot of other people," said east-central Minnesota beginning farmer Paula Foreman.
Main Points of this White Paper
Federally subsidized crop insurance inflates land prices beyond the reach of beginning farmers by providing some of the largest crop operations in the country a consistent, publicly-funded source of cash for bidding up rental and purchase prices.
Requiring several years of "yield history" to qualify for optimal crop insurance benefits puts beginning farmers at a severe disadvantage, not only in terms of insurance coverage, but how lenders view them when they are seeking operating loans.
Crop insurance's focus on rewarding the all-out production of a handful of commodity crops benefits large- scale operations that focus on monocultural agriculture and penalizes beginning farmers and others who utilize diverse systems.