Yesterday marked the one-year anniversary of the murder of George Floyd at the hands of Minneapolis police on the corner of 38th Street and Chicago Avenue in south Minneapolis, just three blocks from the Land Stewardship Project's Twin Cities office.
Our thoughts are with George Floyd's family and community on the anniversary of his death. His life was taken in the neighborhood where many LSP staff and members live and work. Yet his murder and the global racial justice uprising that followed touched the lives of LSP staff and members near and far — rural, urban, and suburban.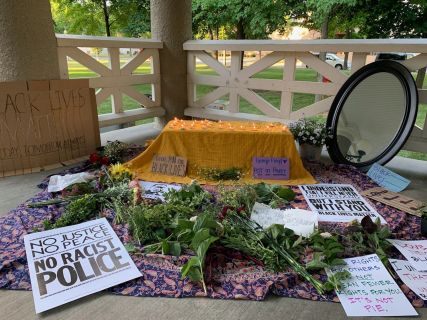 A memorial set up in Litchfield, Minn., by community
members after George Floyd's death one year ago.
LSP's mission is to create a more just and sustainable food and farming system for everyone, no exceptions. Our organizing is based on shared values of community, democracy, stewardship, health, and justice. Racist hatred, exclusion, and violence are clear violations of our strongly held values that every person has value that cannot be earned or taken away. In short, racism, and the actions and policies it spawns, are not sustainable.
As a result, one year ago we stood together with our allies in outrage and sadness to demand accountability and justice. The triple guilty verdict in the trial of former police officer Derek Chauvin in April was one step of accountability toward justice. However, the nearly daily reporting of Black people dying at the hands of police is a brutal reminder that we have much more work to do if we are to obtain justice, stewardship, equity, and healthy communities for everyone. That's why this anniversary should not just mark what has happened — it also should push us to continue the difficult work needed in the future.
George Floyd's death was a direct result of systemic racism that is embedded within our society, our institutions, and policies, and it launched a year of reckoning and solidarity. A year of difficult and uncomfortable conversations. For LSP and our allies, it also launched a year of examining the links between fighting for a more just and sustainable food and farming system and racial justice. Now, more than ever, it's clear this is work that is necessary and ongoing.
Earlier this month, 22 LSP members from across the state gathered for a virtual "Justice on the Land" listening session. Members from Minneapolis to Montevideo heard from each other about how they've grown in their understanding of systemic racism and how the police killing of George Floyd, the protests that followed, and the guilty verdict of Derek Chauvin impacted their communities. Members also explored the question of what LSP's role in the fight for racial justice should be.
This listening session was a reminder that as an organization with deep roots in rural communities and with a membership base that includes farmers as well as urban and suburban dwellers, LSP has a unique role to play in this moment. We can bring people together from different geographies and backgrounds to share their ideas and connect with each other around shared values — stewardship of the land, vibrant communities, healthy food and, just as importantly, racial and economic justice for everyone.
The Land Stewardship Project will continue to listen, learn and follow the lead of our Black, Indigenous, and people of color members and allies in the fight for a more just and sustainable food and farming system. Their fight is our fight. Together, we will create our vision of healthy communities for all.
If you would like to engage with LSP on issues of racial justice in our farm and food system via our program and policy work, contact programs director Shona Snater or policy director Sean Carroll. You can also sign-up up for Amplify!, LSP's racial justice focused e-mail newsletter, here. If you have any questions or concerns about LSP's racial justice work, contact our interim executive director, Julie Emery.