The deadline to reserve lunch for this cover crops workshop in Chatfield is 10:00 a.m. on Monday, Feb. 24.
CHATFIELD , Minn. — A workshop detailing innovations in growing and grazing cover crops will be held Tuesday, Feb. 25, from 10 a.m. to noon, at the Chatfield Lutheran Church in Chatfield. This Land Stewardship Project (LSP) event is open to the public. A lunch prepared by Old Tyme Café and Catering of Chatfield will be provided. Please RSVP to guarantee a lunch and free-will donations for the lunch are encouraged. To RSVP and for more information, call or e-mail LSP's David Rosmann at 507-523-3366, or davidr@landstewardshipproject.org, or visit www.landstewardshipproject.org.
DIRECTIONS: From the intersection of Highways 52 and 74 at the stoplight, turn northeast and travel one block past the Root River State Bank. The church is on the right with an open parking lot. Look for "LSP Field Day" signs for directions.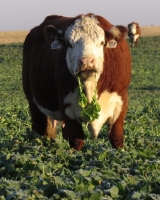 Featured speakers include Sarah Carlson, Midwest Cover Crop Research Coordinator of Practical Farmers of Iowa; Olaf Haugen, a dairy farmer and grazier from Mabel, Minn.; John Zinn, Minnesota Natural Resources Conservation Service State Grazing Specialist, and Dean Thomas, Grazing Management Specialist with the Fillmore County Soil and Water Conservation District.
The practice of implementing cover crops in a farming rotation and as an added feed source is increasing in southeast Minnesota. The workshop discussion will include how cover crops benefit soil health and water quality, along with management of cover crops over winter and in preparation for spring planting. Multi-species mixes will be discussed as well as grazing strategies for livestock on cover crops.
This workshop is the second in a series of three winter workshops on practical ways to build healthy soil and healthier crops and livestock. Birds and land management are the focus of the last workshop to be held March 19 at the Spring Valley Community Center in Spring Valley, Minn.
The Land Stewardship Project (www.landstewardshipproject.org) is a private, nonprofit organization founded in 1982 to foster an ethic of stewardship for farmland, to promote sustainable agriculture and to develop sustainable communities.
-30-