On a blustery late summer day, Jan Libbey and Tim Landgraf hike through a waist-high prairie to the top of a dramatic knob on their farm in north-central Iowa. As they stand amongst big bluestem, Indian grass and switchgrass, corn and soybean fields flow in every direction, the monocultural landscape broken up only by a string of wind generators to the east and a complex of five confinement hog barns to the northwest.
The hill Libbey and Landgraf are standing on rises above a shorter bump in the land. The two hills together form a rounded ridge that runs for a few hundred yards back toward the house and outbuildings that make up the core of the farm. Such an elongated rise is a phenomenon called a lateral moraine, something that's associated with the Des Moines Lobe, a tongue of immensely rich soil that is the leftover of the last glacier to enter the region 15,000 years ago.
By the time the ice sheet receded 3,000 years later, it left behind a poorly drained landscape of pebbly deposits, as well as clay and peat from glacial lakes. It made for some of the best farmland in the world, but here and there left a series of small lakes, potholes and bumps on the land, making it possible for the state capitol building in Des Moines to sit on high ground in the south-central part of the state.
"These hills are part of the reason we moved here," says Landgraf.
That's because when he and Jan bought this land in the heart of Iowa's row crop country two decades ago, they viewed it through the "lens of the traditional environmentalist," recalls Libbey. In a part of north-central Iowa famous for its flatness, the couple had somehow found hilly land. And that was just fine with them. These hills would be a nightmare for the giant cropping equipment that rules this region, as would be the 45 acres of wetlands, wooded shelterbelts and prairie plantings the couple has established on the land during the past two decades.
"They were just tickled pink to sell it to us, because we took all the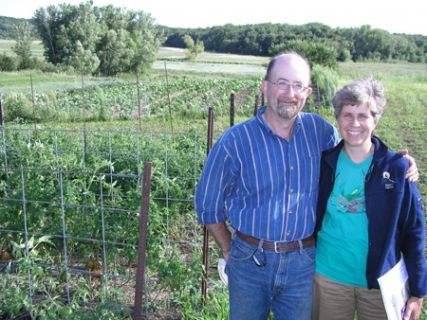 rough ground," recalls Landgraf. "We weren't going to farm—we just wanted a big acreage."
But a lot's changed in 20 years. That original 55 acres of land they bought has now expanded to 132, and it is now the source of their livelihood, not just a respite from the industrialized world. In 1996 Libbey and Landgraf launched One Step at a Time Gardens, a Community Supported Agriculture produce operation. They started out with six members and over the years steadily grew it to the point where in 2002 Tim could quit his town job as an engineer Today, they have 150 shareholders in nearby towns as well as Des Moines, 100 miles to the south. They produce vegetables on nine acres and in two high-tunnel greenhouses.
Despite these changes, Landgraf and Libbey have remained committed to retaining the land's natural habitat. It's a balancing act, one they think is made easier thanks to the model they use to market their food. They got into farming to have a more legitimate voice in the debate over the future of rural land in the area. Now can they bring eaters in on that discussion?
Fighting for the land
Jan Libbey grew up in Des Moines and has a fish and wildlife degree from Iowa State University, where she met Tim, who has a degree in metallurgical engineering. They both have a love of the outdoors: Landgraf grew up on a diversified farm and Libbey worked as a county naturalist in north-central Iowa for five years. Libbey has a passion for connecting people to the land, and being a county naturalist helped her use environmental education to do so.
So it seemed like a natural for the couple to move out of town and get onto the land. In 1989 they bought 55 acres of hilly land right across the road from the 490-acre East Twin Lake Wildlife Management Area, a public gem consisting of a glacial lake, wetlands and forested land. They rented out the farm's crop acres and began raising a family (they have two children: Jess, who is a student at Luther College, and Andrew, who is an agricultural engineer) while Landgraf continued his career as an engineer.
But soon after moving to the farm, a neighbor proposed building a large industrialized hog operation. This drug Libbey and Landgraf kicking-and-screaming into the heart of the factory farm hog wars that had begun in the Midwest a few years before. This battle deepened the couple's belief that a healthy environment and farming were not compatible.
"During my early work in environmental education, it was more common to talk about agriculture in terms of its environmental detriments. It put farmers and environmentalists at loggerheads," says Libbey, bumping her fists together to illustrate the contentious nature of the relationship.
They and their neighbors lost that particular battle, as was evident on this particular summer day — in contrast to the beautiful surroundings, the smell of the five-barn hog facility a half-a-mile-away wafted over the farmstead. When the Iowa Supreme Court ruled that local governments such as counties could not control the siting of factory livestock operations, Libbey and Landgraf moved to expand their original 55-acre purchase to 132 acres in order to provide more of a buffer between them and the hog barns.
"We found out we weren't warriors," says Libbey of their foray into the factory farm wars. "This phase of our experience seemed to be more about putting up stop signs and less about offering new directions."
They also discovered that in their immediate community, there simply was no farming model that offered a viable alternative to large-scale livestock confinement operations. And Libbey was aware of research that came out in the early 1990s showing that even when environmental educators get people out on the land for hikes and other activities, it doesn't necessarily change behavior.
Maybe Libbey and Landgraf weren't frontline eco-warriors, but that didn't mean they couldn't participate in the battle in other ways. So they started looking at how they could model a more sustainable kind of agriculture in their community. As part of their research, one year the couple attended the MOSES Organic Farming Conference in Wisconsin. There they met farmers that were proving food production and environmental health weren't mutually exclusive.
The Community Supported Agriculture model, also called CSA, appealed to them, partly because they already knew how to raise a big garden. But the way CSA farming connects producers and consumers was also attractive to the couple. It consists of people buying a share in a farm before the growing season. In return, the operation provides weekly deliveries of naturally grown produce from spring into fall. CSA farming is considered by conscientious eaters one of the ultimate methods for putting a face on food and thus having a say in how and by whom it's produced.
"I think it was the depth of the model that appealed to me," says Libbey. "It provides for an extension of that naturalist education."
Integrating agriculture & a natural habitat
Over time, the environmentalist and farmer worlds have melded on the farm, something that is possible when you're producing food in a manner that does not rely on thousands of acres of monocrops.
A tour of One Step at a Time Gardens is a living example of The Farm as Natural Habitat, the 2002 book edited by the Land Stewardship Project's Dana Jackson and her daughter, University of Northern Iowa ecologist Laura Jackson. The Farm as Natural Habitat lays out how food production and the ecosystem have become alienated from each other, and how farmers utilizing sustainable production systems can reconnect the two. Libbey is a big fan of the book, and it is her goal to make the farm into one that reconnects food systems and ecosystems.
For example, she and Landgraf show off a part of their gardens that is planted between two sets of shelterbelts — something they call "alley gardening." It builds on some soil conservation tree plantings of poplar and honeysuckle that were already part of the farm back in 1989.
Landgraf and Libbey have since added oak, walnut and ninebark shrubs to the shelterbelt. Besides the soil conservation benefits, the thicker plantings provide a micro-climate that alleviates the kind of climatological extremes that can make vegetable farming tricky in the Upper Midwest.
At one end of these alley gardens are the farm's main source of fertility: pastured chickens. They are part of an intricate rotation system where the farmers take two of the fields out of production every year and seed down red clover. They then run the chickens over the red clover, moving the pens daily. The next year the chickened land, rich in fertility and tilth, goes back into food production. The chickens aren't just a source of fertility: the family sells around 650 a year to eaters wanting pasture-raised poultry.
After checking on the chickens, Libbey and Landgraf leave the shelter of the alley gardens and visit more gardens that are planted on the exposed ridge of the lower part of the lateral moraine. The lack of tree cover is noticeable, as stiff winds sweep the ridge.
The farmers have recently planted oak, American cranberry and spruce along the sides of the ridge-top gardens, a future source of protection from the wind.
"We wished we had planted these earlier," Libbey laments. But then, they didn't know when they first moved here they were going to have nine acres of garden to protect.
North of the ridge-top gardens is a 14-acre wetland restoration that was established in 2001. Native grasses are planted in the upland of the excavation, and cattails are poking up in the open water. On the other side of the ridge is a 15-acre wetland that was established in 2008. After checking out the wetlands, Landgraf and Libbey wade through the eight acres of prairie that was restored on the moraine soon after they moved to the farm.
Pastoral pleasure
All of this has made for a farm that has a nice mix of cultivated and wild land—the prairies, tree plantings and wetlands seem to wrap around the gardens and the row crop acres they rent out to a neighbor. Spend any time on the farm and it will become clear that although they are now making a living on this land, these natural pockets are still key to Libbey and Landgraf's quality of life.
"It's a lot of hard work," says Libbey of producing food on a weekly basis for 150 CSA shareholders. "So within this hard work you always need this respite that's kind of close to our core in the first place. This is what drew us here."
Posted on the wall of a garage that's been converted into a vegetable packing shed is a listing of 40 birds they've spotted on the farm. Geese, ducks, herons and swans, as well as deer in the wintertime, utilize the restored wetlands.
Landgraf describes a recent day in the fields that was a wealth of wildness: "So first thing there was a big flock of probably 30-40 pelicans. When they're flying that's when we'll see them – this big salt and pepper circling. And then we had 50-60 Canada geese."
The farmers also talk with delight (and a little pride) about the migrating monarch butterflies that congregate by the hundreds in the alley garden area, and the upland chorus frogs that hang around the places where the chickens graze.
Public help
But unlike the East Twin Lake Wildlife Management Area across the road, One Step at a Time's role is not to serve as a nature preserve— it has to pay its own way. In the early years of their land tenure, Landgraf and Libbey's management decisions were driven primarily by aesthetics; these days taking acres out of production for prairie or wetlands is something the farmers think twice about.
"I think the key is trying to have that planting diversity and trying to figure out how you can intersperse what you want to produce with wild areas," says Landgraf. "Because at the end of the day we have to produce product to make some money so we can stay here. You know, we're not just doing this for kicks."
Government programs have helped. For example, the wetlands and their adjoining uplands are a result of the Wetland Reserve Program, a Natural Resources Conservation Service (NRCS) program that provides cost share money for establishment, as well as a cash, per-acre payment that is comparable to what Libbey and Landgraf would receive if they were renting the land out to a crop farmer. Some of their natural areas are set-aside in the Conservation Reserve Program, which also provides annual "rental" payments.
The NRCS provided cost share to help pay for the trees. In addition, the Wright County Conservation Board has provided a tree planter, seed drill and prairie burning assistance to help establish and maintain Libbey and Landgraf's restorations.
Stuck in the muck
The farmers are the first to admit that even when they've used government conservation programs on the farm, it's not as well planned out as it might appear. For example, the two wetlands they've established were mostly out of desperation—the farmer they are renting some of their land out to was tired of getting stuck in former prairie potholes.
"We figured out the main problem was that tree roots were plugging the tile line. We cleaned it out, put in a new line and within a few years that low spot was holding water again. We did that twice," Landgraf says of the first wetland restoration.
"We finally said forget it—it wants to be a wetland," Libbey quips.
The couple is getting to that point in their lives (they are both in their early 50s) where they are thinking more about the future of the farm—not only as a business, but as a natural habitat. How can they make sure environmentally friendly management pays off in the long term? Some of this thinking has to do with deadlines imposed by taxpayer-funded programs.
For example, the 15-year Wetland Reserve Program contracts that cover their wetlands restorations have bought them time in terms of determining what to do with the land, but the clock is ticking. They are over half-way through the contract on their oldest wetland, and it's not clear whether such contracts will be renewed in the future.
"The payment is pretty comparable to what you're getting for cash rent, so economically that solves that issue for 15 years," says Landgraf. "But then at the end of the 15 years you've got to say okay, now what? Because we can't afford to keep it permanently out. We're going to have to do something."
Benefiting from bugs
Landgraf and Libbey are using the time these government programs have bought them to take a close look at what other services their farm could be providing, and figuring out how to make such services pay.
For example, while attending the MOSES Organic Conference a few years ago, they ran into Eric Mader, who works for the Xerces Society for Invertebrate Conservation. Entomologists, farmers and beekeepers are becoming increasingly alarmed at the decline in domesticated pollinators such as honeybees, as well as their wild cousins. It's a big deal—every third bite of food is directly or indirectly the result of the work of pollinators (see the Summer 2009 Land Stewardship Letter, page 22).
Mader talked to the farmers about the role diverse operations like theirs could play in providing habitat for wild pollinators such as bumblebees. The conversation struck a chord with Libbey and Landgraf, who rely heavily on pollinators for their gardens. They recently lost access to some honeybee hives, and are wondering where they will get consistent pollination services from. Mader made it clear that all of the native prairie plants they have interspersed around their gardens provide prime habitat for pollinators. And those pollinators can benefit not just their farm, but agricultural and natural plantings in general—providing an ecological service to the community at large.
"You know, maybe the benefit I get from that piece of ground is that it is an incubator for pollinators that make food production possible in my gardens," says Landgraf. "What other benefits are we getting in terms of pollinators, in terms of beneficial insects, reduced insect pressure, that we really don't know about? Perhaps it's enough to get you rethinking how you view a piece of ground that you think you need to be farming."
Libbey, for her part, loves how issues like the need for pollinator habitat can bridge the divide between the environmentalist and farmer worlds that exist within the community, as well as within herself.
"Gosh, that environmentalist bent is integrating itself into the ag bent," she says.
It takes a community
The hundreds of thousand of acres of monocropped fields that surround One Step at a Time are a constant reminder that no matter what changes the farmers make on their own land, a whole lot of status quo is out there. Libbey and Landgraf feel members of the community at large—farmers and non-farmers alike—must show they are willing to support farms as natural habitats if operations like theirs are to be more than the exception.
For the general public, that means consuming food produced on sustainable farms that are benefiting the local environment.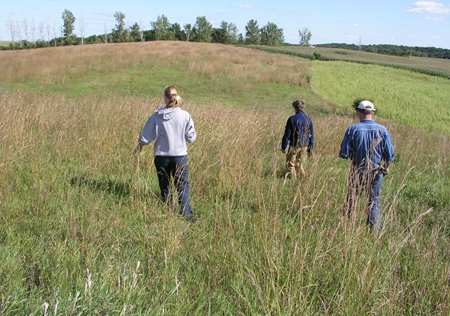 Libbey worked for a couple of years on a project in Wright County to get local food to low-income people, and in recent years she's shifted her work to focus on a more regional level. She's helped build up the North Iowa Farmers' Market in Mason City, and has been a leader in Iowa Network for Community Agriculture and Healthy Harvest of North Iowa.
"If we can take that regional approach, then we can start putting in place some initiatives that begin to trickle down and have a more local impact," says Jan. "Because the farm and food connections are still happening on a very local basis."
The food and farm connections don't get more local than One Step at a Time CSA—the majority of its members live in Des Moines, the rest are in north-central Iowa. "Hopefully our farm members are making the connection that agriculture is not just something that's done out there," says Landgraf, waving to his surroundings.
They make that connection through the food, of course, but also via a weekly newsletter that comes with the shares during the growing season. Besides recipes, a listing of what's in the share and an update on the farm, the Weekly Note also includes ways —book suggestions, meeting notices, brief notes—of connecting people to the larger issues affecting agriculture, the land and communities.
But there's still some work to do before One Step at a Time becomes a "social change agent," as Libbey puts it. She says members tell them the main reasons they belong to the farm is healthy food and support for local farms. They also say they belong for what they term "environmental reasons."
But Libbey says that when pushed further on the matter, it becomes clear these members are mostly concerned about specific practices that keep chemicals out of their food, rather than the "big picture sustainability" of family farms and rural landscapes.
Changing minds in the agricultural community may be even tougher. But Tim is active with Practical Farmers of Iowa (PFI), which, among other things, conducts on-farm research and field days related to sustainable agriculture. He is currently president of the group, and he sees a growing interest in sustainable production systems on the part of even conventional farmers. He's also excited that the environmental community is starting to see that food production and ecological health can go hand-in-hand. When he and Libbey hosted a PFI field day one summer, the Iowa Natural Heritage Foundation, an environmental group, was a co-sponsor. Landgraf points out that the field day covered more than what was growing on the tillable acres.
"At most PFI field days you focus on what's in the fields," he says. "At ours we focused mostly on what was around the fields."
Change on many levels—farm, community, regional and even national—won't occur overnight. In fact, when the discussion turns to length of time it takes to change mindsets around food, farming and the land, Libbey and Landgraf's daughter Jess blurts out the word "glacial"—and she's not referring to the farm's lateral moraine. After all, it took Libbey and Landgraf a few years to realize agrarianism and environmentalism could preside on the same piece of real estate.
"Sometimes you get so wrapped up in the work that you want change to happen now," says Libbey. "You have to have some patience and understand our work is only going to be a piece of it. Sometimes you need to sit back and feel good about the here and now."