Stewardship — taking care of the land — starts with taking care of the soil, the foundational resource in any land-based agricultural system. Today, many of the soil conservation practices that are promoted to farmers and landowners — buffer strips, grassed waterways, sediment dams, etc. — are really only addressing the symptoms of a degraded soil resource: issues like soil erosion; sediment/nutrient loading in lakes, rivers and streams; compaction; disease; and pest problems in crops and livestock.
But in the past decade or so there has been an expanded and growing consciousness about soil as a living, biological universe that needs particular conditions in order to function well and in a regenerative way.
An increasing number of farmers, natural resource professionals and scientists are focusing on treating soil as a long-term investment. They are working to implement management practices and cropping systems that support and enhance soil biology as the primary means of restoring the soil to a healthy state of function. They are proving that there is a need to test and implement practical and profitable ways to enhance soil health while meeting our economic and quality-of-life goals as individuals and as communities.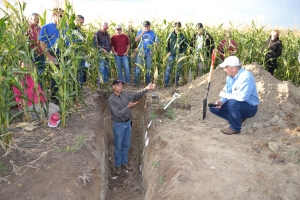 The Land Stewardship Project, through such initiatives as the Chippewa 10% Project, the Southeastern Minnesota Cover Crop Network and the Soil Builders' Network, is working with farmers, natural resource professionals and scientists to promote agricultural systems that treat soil health as a long-term investment, one that can pay dividends in terms of a healthier landscape, thriving farms and vibrant communities.