Near the end of Will Allen's inspiring book, The Good Food Revolution, DeShell Parker talks about what Growing Power means to her: "It means integrity. It means strong thinking. It means willpower. It means confidence. It means assertiveness. It's so far beyond dirt and worms."
Allen's book, which he wrote with Charles Wilson, is extremely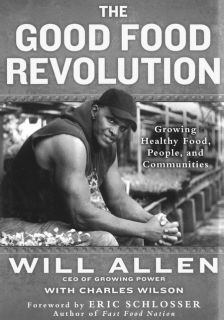 important, and not just because it provides insights into how to start and run something like Growing Power, one of the most innovative and influential urban farming operations in the nation. It's important because, as Parker's quote shows, it proves that Growing Power is more than about making good compost or feel-good fodder for feature articles. It's about people.
Will Allen has a way with people, partly because he is such a significant presence—physically and emotionally. The six-foot-seven former pro basketball player's tireless passion for food, farming and community is infectious. That's why he's been so successful at getting people from all walks of life to join him on his mission of developing an urban agricultural system that reaches across racial, economic, even agronomic, lines. Allen's Growing Power has become an epicenter for not only producing food in a major city (in this case Milwaukee), but also for training people from across the country and even abroad on the basics of urban ag.
I first met Allen in the mid-1990s at the MOSES Organic Conference. He had brought with him a group of African-American youth who wanted to learn about sustainable agriculture. They were literally the only people of color at the conference, but Allen didn't let that dampen his enthusiasm.
As he argues in his highly personal, yet wide-ranging, book, farming and food are a critical part of the African-American experience. Allen himself raised food with his family as a child, and later re-caught the farming bug while playing basketball in Europe. Unfortunately, when most African-Americans think of farming, they associate it with slavery and an abusive sharecropping system that arose after the Civil War.
Since he attended that MOSES conference in the 1990s, Allen has become a bit a rock star in the local food movement. The same engaging personality and passion that helped him become a top salesman for Procter & Gamble has made it possible for Allen to sell everyone from inner city youths to U.S. Presidents on the idea that an urban agriculture movement based on the ideals of self-sufficiency, justice and ecological balance is quite viable.
He's been featured in the national media and in movies, and is the recipient of a prestigious MacArthur Genius Grant. All of this attention to Growing Power's work has done immeasurable good in advancing the cause, including here in Minnesota where the Women's Environmental Institute is working closely with Growing Power to develop intensive production trainings (LSP organizer Anna Cioffi and residents of Hope Community have participated in these trainings at the Institute's North Branch, Minn., farm). But it also brings up the question: is Will Allen's dream sustainable, or is it something that will die when he moves on? Is this man's powerful presence so overwhelming that no one will be up to carrying the baton the next leg of the race?
Creating a "cult of personality" is easier than ever in the age of social media and 24-7 electronic communications. That's why movements must be on-guard against being so reliant on charismatic authority figures that they fail to build the grassroots foundation needed to continue long into the future.
That's why The Good Food Revolution isn't just important because it's a handy history of Growing Power, a way of documenting what in itself is a truly remarkable story: a sharecropper's son takes a collection of abandoned greenhouses in a rough part of Milwaukee and remakes them into an urban farm/composting facility/retail store/training center that is known worldwide.
Rather, Allen's ruminations on farming, food, race, economics and urban development is more of a "how-to" in the sense of how to make the kind of human connections so key to developing a brilliant idea into a sustainable movement. Almost every chapter introduces the reader to someone that has had a major influence on Growing Power. Predictably, Allen starts with his mother, Willie Mae, who instilled in him a love of good food. But then there are all the farmers, community organizers, local officials, scientists, educators and foodies that helped along the way.
But most importantly, The Good Food Revolution features people who live in the neighborhood where Allen launched his urban farm: the troubled youth, single mothers and others who feel powerless in the face of age-old stereotypes: African Americans aren't interested in farming, food can never be too cheap, farming doesn't belong in the city. Allen knows if these kinds of people aren't in on the "Good Food Revolution," it will never be sustainable. And he acknowledges that his time is limited. Now in his early 60s, the hulking Allen is still as energetic as ever, but he's not immortal.
That's why it's so key that the book begins and ends with Karen Parker, who Allen first met when she was managing a Kentucky Fried Chicken restaurant Allen was in charge of. Parker was a hard-luck case and has had more than her share of run-ins with drugs and bad relationships over the years. But Allen saw something in her, just as he saw potential in those broken down greenhouses and that worn out city soil.
Parker was the first person he hired when he began his grand experiment in the 1990s. Parker's daughter DeShell, the source of the "dirt and worms" quote, now has two master's degrees and is a social worker. Her brother DeShawn, who was disfigured by fire as a boy, is now an accomplished chef who works with locally produced foods.
The future is in their hands, and that future is bigger than dirt and worms—or even one very large local food icon.
Brian DeVore is the editor of the Land Stewardship Letter.