The 2022 Minnesota legislative session held incredible promise in the form of a historic budget surplus that had the opportunity to deliver tangible progress on the biggest challenges we face. For example, the Minnesota House Climate Action Caucus, chaired by Rep. Patty Acomb (DFL-Minnetonka), began the session with a bang, proposing a $1 billion investment in climate solutions, including $100 million for agriculture.
Unfortunately, the end of this legislative session left more undone than done. In numerous budget areas, members of the Senate Majority refused to negotiate or delayed so much that an agreement came too late. Luckily, one of the few omnibus bills that crossed the finish line was the budget for the Minnesota Department of Agriculture (MDA). Bills that included funding for the Board of Water and Soil Resources, Soil and Water Conservation Districts, and the Conservation Reserve Enhancement Program did not make it across the finish line in time.
We are hoping the Legislature will come back together to do its job and deliver the funding people and the land need and deserve. However, Senate Majority Leader Jeremy Miller has made it clear that the Senate Republican Caucus has no interest in doing so.
It's not too late to demand that lawmakers come back to the table. You can take just two minutes to contact Senator Miller here.
What was on the table
and what passed?
Governor Tim Walz and the House of Representatives originally proposed robust budgets for the MDA of over $70 million and $60 million, respectively. The Senate, however, spent most of the historic budget surplus on tax cuts that would mostly benefit the rich, leaving just $5 million for their agriculture budget bill.
Land Stewardship Project members and supporters worked hard to push Senate Majority Leader Jeremy Miller (R–Winona) to agree to a budget for the MDA that was closer to the size of the House proposal. Dozens of LSP members who are Sen. Miller's constituents attended a virtual in-district meeting, wrote letters-to-the-editor, and were featured in local newspaper advertisements, — yet he prioritized tax cuts that would primarily benefit the rich and set the joint agriculture budget at just $15 million.
Although Senate leadership squandered an opportunity to fully meet the needs of farmers, our food system, and rural communities in the agriculture budget (and by failing to pass other budget bills), the final agriculture proposal did include some key funding that we are eager to build upon in 2023.
Key wins in the agriculture budget include $500,000 for soil health grants for farmers, directing the state to create a soil health action plan, and notable investment for livestock processing grants and education.
Below is what was proposed and what eventually passed for the 2022-2023 and 2024-2025 fiscal years: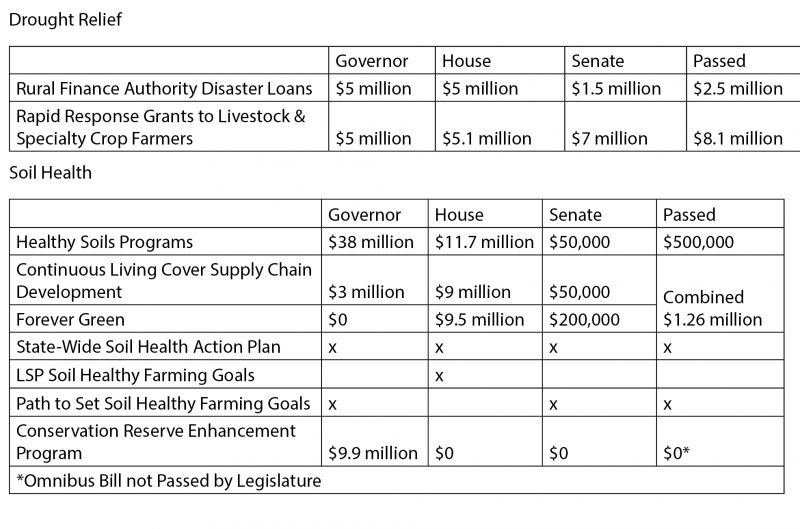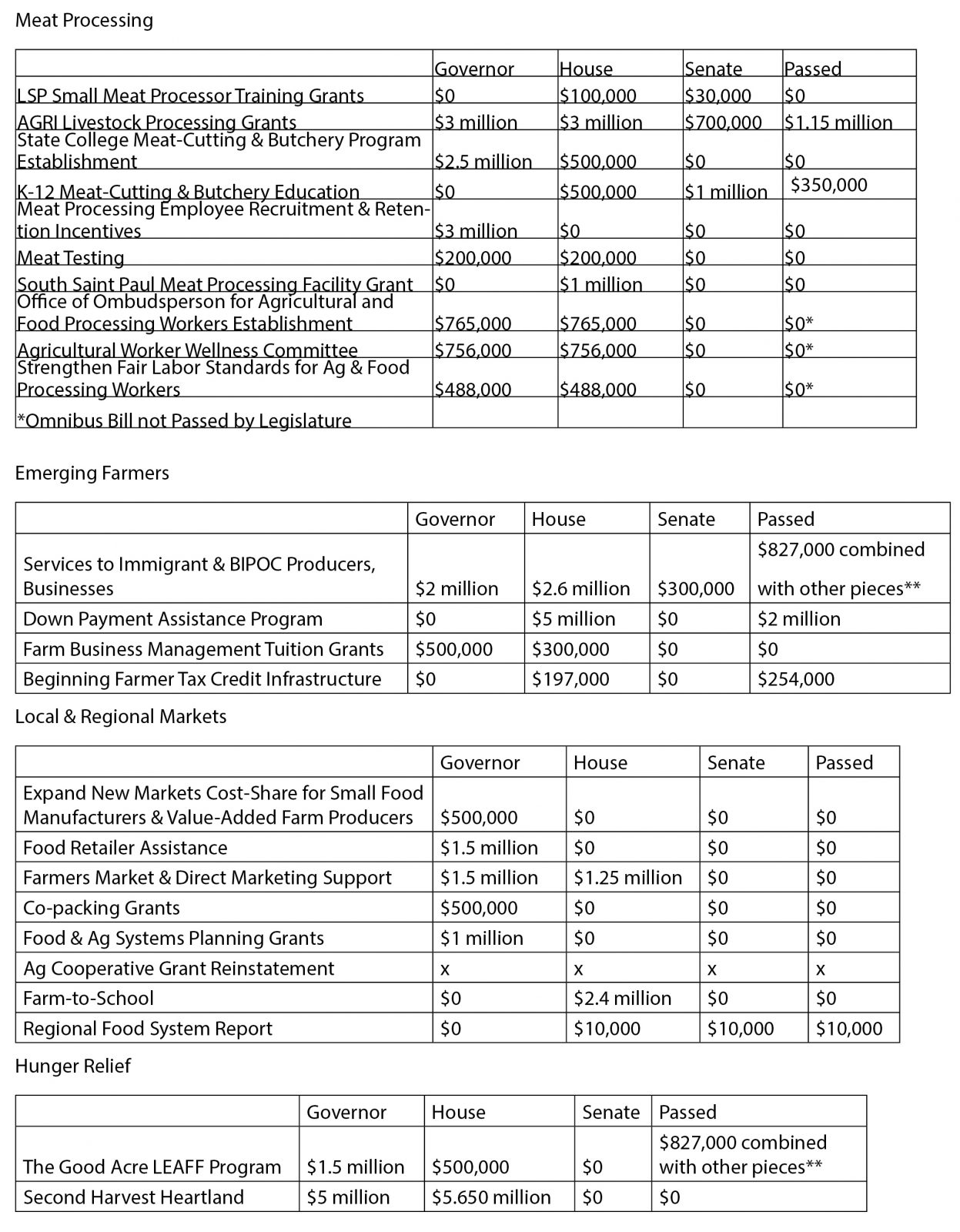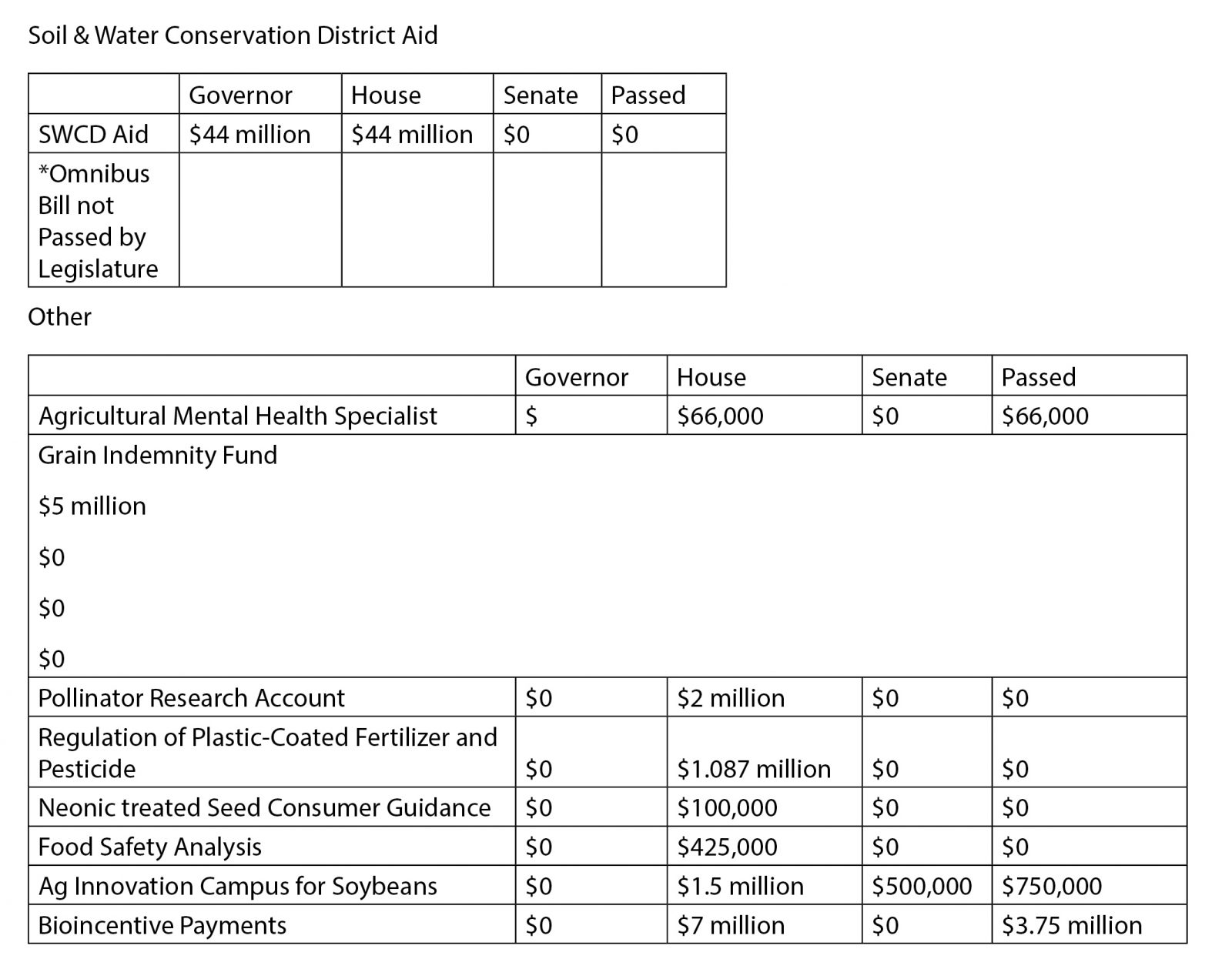 Summary
We're facing compounding challenges that Land Stewardship Project members have testified to, written letters-to-the-editor on, met with their Legislators about, and took actions around: the climate crisis and extreme weather, consolidation in the meat supply chain, skyrocketing land costs, barriers to processing and markets for emerging crops, and more. What is clear is that the Governor and the House Majority, overall, proposed strong budgets for people and the land, while the Senate dismissed these real challenges threatening their communities to prioritize tax cuts for folks who don't need them. And then they decided to not finish the job by leaving several budget bills on the table.
The Speaker of the Minnesota House, Representative Melissa Hortman (DFL–Brooklyn Park), and Gov. Walz are ready and willing to come back to the table to finish what was left undone. Senate Majority Leader Miller said the Senate Republican Caucus was not interested in a special legislative session and House Minority Kurt Daudt (GOP– Crown) said he wants to "sleep on it" for seven months.
Additionally, the legislative process has become increasingly opaque over time. Individual legislators were largely not in the loop during end-of-session negotiations unless they were committee chairs, making constituent and organizational engagement even more difficult. Numerous members of the Senate Majority also refused to meet with LSP members who are their constituents, despite repeated requests.
They also cobbled together massive omnibus bills with multiple agency budgets in each. If one part of the budget was agreed upon, but others weren't, they didn't pass any of it. We strongly believe that leadership from both parties and each body must make a commitment to transparent and public lawmaking and negotiating. Our democracy should be accessible, responsive, and effective.
Regardless of if the Legislature comes back together to finish the job, LSP will be working to create a holistic, member-developed state policy platform to aggressively organize around. We're ready to get to work to make sure 2023 has a very different result than the 2022 legislative session. In addition, we're planning on bringing back the Family Farm Breakfast and Day at the Capitol – stay tuned!
More Information
LSP policy manager Amanda Koehler can be reached via e-mail or at 612-400-6355.