My name is Maria Russo and I am a senior at the University of Minnesota majoring in political science. This semester I was a part of HECUA's Environmental Sustainability: Science, Public Policy and Community Action program. HECUA stands for Higher Education Consortium of Urban Affairs and is an off-campus study program. The program I'm in consists of three classes and an internship. As an intern for the Land Stewardship Project these past four months, I have gained so many great skills and had awesome experiences.
I was really lucky in that I got to work closely with Hope Community Inc., and got to know more about the work LSP does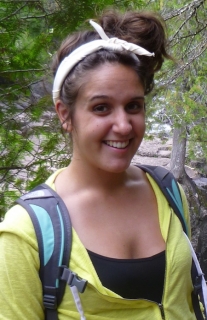 in the Twin Cities Metropolitan Area. LSP and Hope Community have formed a strong six-year partnership that is based on fighting policy inequity, supporting racial justice, developing leaders, and conducting place-based organizing to work with people to address problems where they live.
Hope currently has two community gardens: one is a plot-based community garden and the other is a communal garden. The majority of my work was done on a report about community garden management styles for the new garden at Hope that will open in spring of 2016. This project allowed me to talk to people from community gardens and organizations all across the U.S., which was a great experience. The projects I learned about ranged from smaller, 500-square-foot gardens to organizations that supported over 100 community gardens. I learned so much about what goes into organizing a community around a unifying project and what some of the challenges are that come with this kind of work.
I'm hoping that my findings and suggestions will provide some help and insight to Hope and the community members as this garden is created. I was also able to be involved in different policy meetings, community events and listening sessions through my internship. I sat in on a meeting with a Minneapolis City Council member, took notes during listening sessions about food access held in the Phillips community, participated in the "Cooking, Culture and Community" classes that Hope holds, attended a Metro Food Access Network meeting, along with other great experiences.
These opportunities taught me a lot about food justice on all levels of the food system in Minnesota, especially in Minneapolis. I made a lot of connections to what I have been learning in HECUA's Environmental Sustainability program. I feel like I'm just starting to get to know the amazing people I've gotten the chance to work with, but I'm taking away important, newly-formed skills and a new-found love for the work both of these organizations are doing.
I hope that after I graduate this spring I will be able to use this new network as a base for returning to this area of work in Minneapolis so that I can build more connections within this community.