Check out LSP's ongoing Ear Dirt podcast series for conversations on cover cropping, no-till, managed rotational grazing, fungi, and just about anything else that builds soil health. You can check out all 316 episodes of our Ear to the Ground podcast here.
Agronomist David Kleinschmidt says dealing with extreme weather on the farm requires compromise, even when it means taking a temporary step back on soil health.
Jordan and Rachelle Meyer are using goats to add value to marginal land…one thistle at a time.
A pasture walk on the Nikki and Cody Meyer farm shows the value of farmer-to-farmer learning.
Dr. Liz Haney says a truly regenerative farming system starts with a regenerative way of measuring soil health.
Humble Hands Harvest's entry into agroforestry is being supported by its vegetable operation — setting the stage for a new approach to farming a rugged landscape long into the future.
Dave Pratt says most farms and ranches are just a collection of expensive assets and low-paying jobs. But such a dysfunctional business model is not inevitable.
Farmers like Tom Hunter are setting out to prove that trees and livestock can mix in a way that creates an ecological -economic equilibrium.
When a tiling company suggested more pipe to deal with drainage issues, Tom Finnegan opted to go to the root of the problem.
Illinois farmer Dave Bishop says rural communities can't "monoculture" their way out of the economic, ecological, and social challenges that plague them. But diversifying successfully isn't just a numbers game.
Laura Lengnick believes that if farms are to survive (and thrive) in the age of climate change, we need to remember it's not just about soil and water — it's also about people.
Scientist Elaine Ingham believes minding the microbes makes farmers the masters of their own destiny.
Rick Clark's no-till organic system is all about treating cover crops like cash crops — because they are.
John Ledermann's rental relationships are built on healthy soil.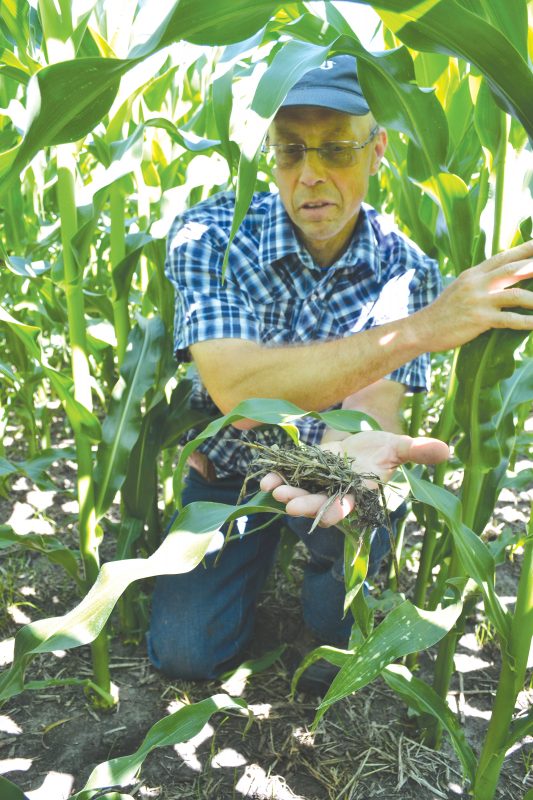 David Johnson and Hui-Chun Su Johnson's approach to composting may help farming reach the ultimate regenerative ag pinnacle: self-sufficient soil.
What Allen Williams unearthed on the farm of Rachelle and Jordan Meyer.
How the Bergler family stopped "chasing their tails," started fixing their farm's damaged soils, and welcomed curious queries.
Two decades after crop failures almost ended his farming career, soil health pioneer Gabe Brown reflects on how far the regenerative ag movement has come…and where it's going.
Tom Cotter sees his return on investment tied directly to how freely he lets soil biology do its job — and that starts with a diverse community above and below ground.
As an accountant and a farmer, Joe Lawler sees building soil health as a way to strike a balance between economic and ecological success…and boy is it fun to see a pollinator planting come to life.
Everett Rolfing knew one thing for certain: no-till would never work on his farm. His soil had a different idea.
A journey into southeastern Minnesota's geological basement reveals that building soil health can help make "clear" and "clean" equal the same thing.
Adhering to the tenets of Ag Econ 101, a pair of beginning farmers are avoiding commodity row crops and embracing grazing, silvopasturing, and "bale grazed veggies."
There's a connection between the biome beneath our feet and the bounty on our table. Allen Williams thinks research linking soil health and nutrient density of food holds huge potential for advancing regenerative agriculture. (4th of 4 parts in a series)
Allen Williams describes how regenerative practices are working on four farming operations representing widely divergent geographical locations and enterprises. (3rd of 4 parts in a series)
Allen Williams asks, "What is a weed?" and lays out the three rules of adaptive stewardship. (2nd of 4 parts in a series)
Allen Williams believes that farming in nature's image isn't just a nice idea, it's an agricultural/ecological imperative. (1st of 4 parts in a series)
How Scott and Amanda Holthaus are transforming corn-soybean ground into perennial pasture utilizing soil biology and the rotational grazing of diverse cover crops.
Maks Kopish is looking through a microscope and seeing a way for soil to be self-reliant.
In an area that receives 8-10 inches of precipitation annually, Mexican rancher Alejandro Carrillo's philosophy is: "It's not how much rain you get, it's what you do with it." That's why he makes sure that water falling out of the sky has a friendly reception on the ground.
Mike Seifert is using cover cropping and no-till to make up for the soil damage caused by years of heavy metal tillage. One rainy night, his headlamp illuminated the results.
A farmer, a soil conservationist, and a crops specialist talk about how the roller crimper system can help extend the benefits of a cover crop.
A 4th grade experiment launched farmer Connor McCormick down a path of researching linkages between ecology, agricultural economics, and healthy soil.
How farmers involved in an LSP research project hope to use the Johnson-Su Bioreactor composting system to spark a chain reaction of underground ecological activity.
Martin Larsen's integration of small grains into his cropping operation is centered on building economic and ecological resiliency beyond the next growing season.
In his ongoing attempt to create a regenerative, soil-healthy farm, Kaleb Anderson is pushing a plant science breakthrough further using rotational grazing
Tillage can do a lot of things, but building soil isn't one of them. Soil expert Steve Lawler and Minnesota farmer Jon Jovaag talk about the importance of using nature as a guide when preparing a seed bed and bolstering the soil's structure.
Soil health cheerleader Ray Archuleta and Iowa farmer Mervin Beachy talk about taking agroecological innovations from the "excitement stage" to the "action stage"…and the importance of aha moments.
What happened when beginning farmers Rachelle and Jordan Meyer started listening to the land and turned livestock loose on a "bacterial farm."
Farmer Tom Frantzen talks about hybrid rye, ecological resiliency, and why being uncomfortable isn't always a bad thing.
.