Can Minneapolis feed itself? Is it possible to create a local food system that is accountable to our communities and empowers all to participate? The answers to these questions are a critical part of developing an independent, just and equitable food system that will help our city weather the changes in our food and energy economy that are on the horizon.
Homegrown Minneapolis is currently working to convene the community around these questions and arrive at solutions that work for everyone. Homegrown Minneapolis is a citywide program "working toward expanding our community's ability to grow, process, distribute, eat and compost more healthy, sustainable, locally grown foods."
This past fall Homegrown established the "Land Access and Urban Agriculture Working Group," a task force of the Homegrown Minneapolis Food Council. This group has been asked to convene community around two very specific goals:
1) Increasing the number of acres of land being cultivated for food production in Minneapolis.
2) Removing policy barriers that prevent urban agriculture from thriving in the city.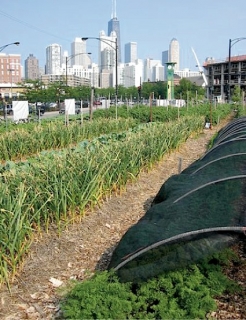 Working group members are researching how other cities have strengthened their own food systems, broken down barriers to food and land access to all citizens, and increased urban resilience through empowerment and community autonomy. The group is brainstorming how these different models apply to Minneapolis, and will ultimately make recommendations, based on broad community engagement, to the city council via Homegrown Minneapolis.
We need your input! Please consider attending an upcoming meeting and having your voice heard. Everyone is welcome and everyone's voices matter, no matter what your experience or background. Together we can create resilient, independent communities. The working group's next meeting is Wednesday, Oct. 9, at Sabathani Community Center (310 E 38th St., # 200, Minneapolis, MN 55409) from 6:30 p.m. to 8 p.m.
Land Stewardship Project member Jim Bovino is co-chair of the Homegrown Minneapolis Land Access and Urban Agriculture Working Group. He and Jillia Pessenda Bovino also operate California Street Farm in Northeast Minneapolis. For questions about how to get involved with the Land Access Working Group, contact Bovinoa at jbovino@gmail.com.