On March 22, the Minneapolis City Council unanimously approved "Urban Agriculture Zoning Text Amendments" that, among other things, address market gardening, use of hoop houses and the construction of raised beds. Most importantly, produce grown within city limits can be sold for market, creating more food security within the city, and opening up avenues for food related businesses.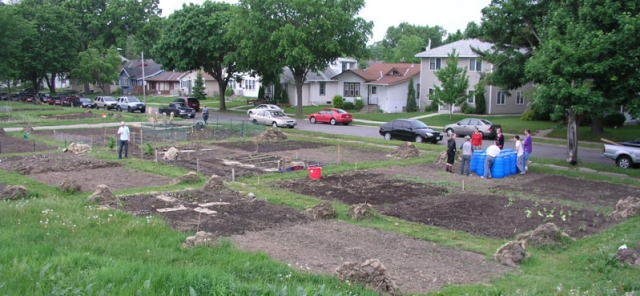 Since 2010, Land Stewardship Project staff and members have been focusing on making urban agriculture a critical player in the community life of Minneapolis. In 2009, the City of Minneapolis decided through recommendations put forth by Homegrown Minneapolis to pursue the development of "a city-wide topical plan on community gardens and urban agriculture."
The passing of these zoning text amendments does much to advance the spread of community gardens and urban farms. For the first time since 1963, people will be allowed to grow food commercially in the city. Having urban agriculture as part of the city zoning plan is a huge step towards making the production and consumption of local food a key part of our communities.
The text amendments will allow the use of hoop houses on residential property while making it possible for market gardeners to sell directly to customers from their sites for 15 days per year. Commercial growing will be allowed on a large-scale at urban farms in industrial districts, and on a smaller scale at market gardens in low-density residential areas. People will also be allowed to grow food commercially in their own backyards, and be able to sell it from their property. In addition, aquaponics will be allowed within the city limits.
These rules are going to open the door for food entrepreneurship in Minneapolis, while renewing the relationship between city land and the food that we're eating. The city council has indicated that after the first year of implementing these amendments, it will revisit such issues as expanding the number of days market gardeners can sell from their properties. LSP will be working closely with our members and allies to make sure the new urban ag rules make food and farming accessible to all residents.