May 4, 1 pm-3:30 pm
32979 Pier Ridge Rd., La Crescent, MN 55947-7710
Google Map »
RSVP to Alex Romano, LSP, 507-523-3366, aromano@landstewardshipproject.org
For over 30 years, Art and Jean Thicke have raised dairy cows on managed rotationally grazed pastures without the use of fertilizer, pesticides, or tillage. They have seen a major increase in water infiltration and forage production in their perennial pastures.
In 2013, the Thickes began their farm transition process with Melissa and Chad Crowley and their three children. At Enchanted Meadows Organic Farm, the Thickes and Crowleys follow only three rules: keep it simple, keep it simple, keep it simple—and they are in it for the long haul.
The farmers intend for this Land Stewardship Project field day to be driven by farmers' questions and interest. And they will also share their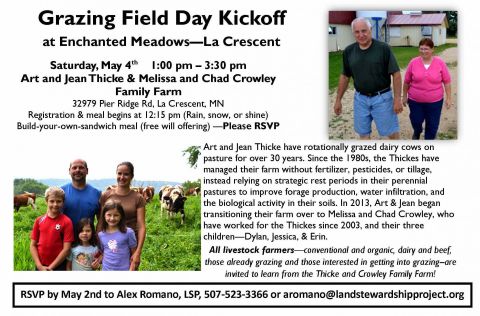 knowledge and experiences with topics such as spring pasture productivity, plant identification, improvements to herd health, and harnessing solar energy.
Please check back for more information coming soon! More information is available by contacting LSP's Alex Romano at 507-523-3366 or via e-mail.