One day in 2014, a man stopped by Bill and Bonnie McMillin's farm tucked away in the hills of southeastern Minnesota's Wabasha County and offered to pay cash for all 160 acres, lock, stock and barrel. Such an offer can be tempting. After all, Bill and Bonnie had worked hard over the previous few decades to build a 45-cow dairy operation, which they later transitioned to a grass-fed beef enterprise. Working with livestock takes a toll on the body, and at the time Bill was 60 and Bonnie 58. In fact, the previous year they had both had serious cancer scares, and their adult son is not interested in farming. It was time to think about the future of a farm that had been in Bill's family since 1946.
Fortunately, the McMillin's had recently completed a Land Stewardship Project Farm Transition Planning Workshop, where, among other things, they learned the importance of setting goals and figuring out ways to attain them, while developing a retirement plan that would guarantee a sustainable income. The McMillins came out of that workshop series more committed than ever to seeing their farm remain a "stand-alone" operation, a home to crops and livestock, as well as a place where a farm family would reside, rather than just another 160 acres appended to a larger corn and soybean operation. Bill was especially adamant that the farm offer an opportunity for the next generation of agricultural entrepreneur, given his involvement during the late 1980s in a group called the "Wabasha County Give A Damns," an informal collection of neighbors that encouraged LSP to eventually launch Farm Beginnings, which has trained hundreds of new farmers during the past two decades.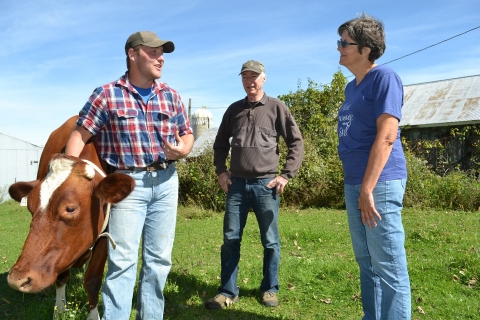 "Providing an opportunity for somebody to farm is big for us," says Bill while sitting at a table with Bonnie in their farmhouse on a bright fall day. "I didn't take that offer in 2014 to buy the farm seriously. He was serious, but we had no intention of taking him up on that offer at all."
They knew once they took the cash, they would have no influence on the farm's future, and the chances of the buildings being knocked down and the land becoming just one more corn and soybean field would be increased significantly.
"The best part of the Farm Transition class for me was it made us ask, 'What are our goals for the farm?' " Bonnie recalls. "And whenever something came up around decision making, it was clear we could go back to our goals, and that really helped us make that decision. When something came up, that's what we went back to—our goals."
As the McMillins relate this story, sitting across the table from them is someone who has made sticking to their goals of using the farm to launch a new agricultural career much easier: Bryton Miller. On this fall day, the 22-year-old has just wrapped up the morning chores in the nearby barn and is taking a break before heading over to a neighbor's farm to help with chopping silage. Miller grew up on a 184-cow dairy just up the road from the McMillins, and has made it clear his entire life that his ultimate goal is to own and operate his own milking enterprise. After all, a few years ago Bryton received a dairy heifer due to calve as a Christmas present from his parents; as a high school graduation present, they gave him an Allis-Chalmers D17 tractor.
"Farming oozes out of my pores," says Bryton with a laugh. "Every career day at school, I was a farmer. Every time."
Bryton is the oldest of six children, and his parents, Tom and Kay, encouraged him from a young age to seek farming opportunities off the home place. In fact, he has held jobs off the farm since he was in 9th grade, gaining experience not just on other agricultural operations but in everything from construction to being part of an ambulance crew, all the while building a nest egg for buying a farm someday.
Bill and Bonnie say Miller and his family have a reputation for being hard workers and having a commitment to the community. By the time they received that offer to sell everything in 2014, the McMillins were already in discussion with Miller about how he could take over the operation.
Transitions in farming are full of missed opportunities, connections that aren't quite solidified and, in general, timing that doesn't work out for the parties involved. A retiring farm couple, for example, may be leaving the land at a time when a beginning farmer is not ready to step in and take over. Given that, the McMillins and Miller seem to be a perfect match: a rare bit of lucky providence where a retiring farm family's goals and a beginning farmer's aspirations intersect logistically and timing wise.
But a closer look shows that a lot of preparation went into making certain the two parties could take advantage of that luck and ensure long-term success for all involved.
Getting it on Paper
The McMillins concede that they have a huge advantage over a lot of retiring farmers: they know Miller and they know his family. In fact, they began discussing with Tom the possibility of his son taking over the farm while Bryton was still in high school. But such familiarity comes with its own challenges. When tensions over payment arrangements or management decisions come up, "handshake" agreements between neighbors can go sour as the two parties involved realize expectations haven't been put on paper. That didn't happen in this particular situation, but the McMillins and Miller realized the potential was there.
In order to make sure the transition went in a way that ensured a good retirement income for the McMillins while Miller didn't get in over his head financially, Bonnie and Bill knew they had to develop a formal agreement that covered everything from how to handle down payments and conflict resolution to where the retiring couple would live during the next few years. The latter issue can be particularly fraught for retiring farmers, since their place of employment is also their home.
Both parties hired attorneys to help draw up a contract and hammer out an agreement, something that was emphasized in the LSP Farm Transition Planning Workshop.
"I hate paperwork," says Bryton.
"But now you know where you stand, and we know where we stand," responds Bonnie.
They ended up developing a "contract for deed" arrangement. This consists of an initial down payment, and then a regular payment schedule stretching over a 10-year period. At the end of the 10 years, roughly half of the price of the farm will be paid for at that point, and a "balloon payment" for the balance will come due. Then, Miller will either have to refinance to pay off the McMillins, or the two parties could decide to have him continue making regular payments to Bill and Bonnie for the balance.
The McMillins felt an important piece to include in the arrangement was that they be allowed to continue living on the farm for up to four years. The contract is set up so that they can live in the house for two years rent-free, and after that they will pay rent. Bryton's attorney counseled against such an arrangement, but the McMillins and Miller say it has advantages for both parties.
For Bill and Bonnie, it gives them until 2021 to find a new place to live (Bryton is currently living on another farm). Bryton works fulltime on an overnight ambulance crew, so since Bill is living on the farm he can often help with the morning milking when a shift runs long. Overall, it allows the McMillins to stay connected to dairying without having to be tied to it on a daily basis. Bonnie has retired after being at Mayo Clinic for 41 years, and the couple is looking forward to traveling more.
The contract for deed has another twist—it allows Miller to spread his down payment out over four years. This helps Bill and Bonnie tax-wise, and gives Bryton more breathing room financially as he gets his operation off the ground.
"We've farmed our whole lives and we know that sometimes you get a little bit behind," says Bill.
The Cows Come Home
In March 2017, after a dozen-year absence, milk cows returned to the McMillin parlor. Because it had been several years since the operation was a dairy farm, Miller had to replace the stanchions and repair the pipeline milking system. He was able to build up a herd by purchasing cows with savings he'd squirreled away since he was a freshman in high school. And since he's still working fulltime on an ambulance crew, Bryton has that income for living expenses. Having outside income and being able to ease into a dairy operation while keeping exposure to financial risk low is important at a time when milk prices appear to be in a free fall. Dairy farms are liquidating herds as oversupply floods the market and university economists are espousing the belief that "mega-farms" are the future.
But Bryton is confident he can make a go of it. He is keeping his expenses low and relying a lot on sweat equity. Today, he's milking 50 cows, and has a 10-year plan of building a new parlor and a free-stall barn, as well as eventually expanding to around 80 cows. Besides milking assistance from Bill, Bryton benefits by being able to borrow equipment from his family.
The McMillins are thrilled that dairying has returned to the farm. For one, the land is considered highly erodible and vulnerable to runoff, and keeping it a dairy operation means there is a better chance that the farm will be covered in a diversity of plant systems, including hay and pasture. Bill, who long utilized managed rotational grazing to raise livestock, has encouraged Bryton to experiment with this system. The young farmer has also been planting cover crops, which has reduced erosion significantly.
Goal Tending
As they enter a critical stage in the transition—Bryton's last down payment is due in January 2020, and Bill and Bonnie's future living situation must be decided the next year—questions hang in the air. What will milk prices do? Where will the McMillins move to? Is 160 acres enough to support a growing dairy herd?
But Bonnie and Bill say they get a lot of comfort knowing that they have set goals for themselves and the farm, and been able to develop a plan that helps them attain those goals. That's been important, particularly when challenges arise from unexpected places. For example, the farmer who stopped by in 2014 to offer cash for the land was not the only prospective buyer. Others in the neighborhood, including extended family members, were also interested in purchasing the farm. Turning down such offers can result in strained relations, but Bill says in general the community has been supportive of their efforts to keep the farm as a stand-alone dairy operation.
"You think it's your farm and your decision, but it's easy to hurt somebody's feelings," he says. "We have our values, our goals, and it might not go that way if we let somebody else take control of the situation."
And sometimes those goals go beyond one's retirement plans or even the state of the land. Also key are connections to the next generation that aren't based on a transaction involving money or infrastructure.
"I kind of enjoy having you guys here," says Bryton as he heads out to do field work. "When you're in the barn and you see somebody up at the house you know if something did happen, there's somebody up there."
Bonnie watches him walk out the door.
"Bryton doesn't sit still," she says. "He comes down the driveway in a skid steer loader or on a tractor and he's always on the phone, but he has a smile on his face. You can tell he's just happy."
Brian DeVore is the editor of the Land Stewardship Letter.