PLAINVIEW, Minn. — Rotational grazing, soil health, pasture diversity, and soil building crop rotations will be the focus of a grazing field day on Saturday, July 13, near Plainview. Adam and Amanda Bedtke will host this Land Stewardship Project (LSP) field day from 1 p.m.-3 p.m. at their farm between Plainview and Weaver (11418 County Road 41, Altura). The field day is free and open to the public and will feature a pasture walk guided by the Bedtkes. Registration and a lunch of pulled pork sandwiches (pork from Hidden Stream Farm), 1919 Root Beer, and Organic Valley snacks begins at noon, rain or shine. Free will offering accepted. To reserve a spot, contact LSP's Liana Nichols by July 10 by calling 507-523-3366 or e-mailing lnichols@landstewardshipproject.org.
DIRECTIONS: The farm is located about halfway between Plainview and Weaver, on County Road 41 (six miles east of the Plainview John Deere). Look for LSP signs.
The Bedtkes have an organic grazing dairy and have no-tilled and interseeded diverse cover crops into their corn, oat, and hay rotation. Soil health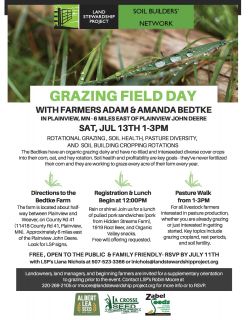 and profitability are key goals—they've never fertilized their corn and they are working to graze every acre of their farm every year, including cropland. This field day will be of interest to all livestock farmers interested in pasture production, whether they are already grazing or are just interested in getting into grazing.
'Renting It Out Right' Orientation Beforehand
Landowners, land managers, and beginning farmers are invited to join LSP at the Bedtke farm before the field day to get a one-hour orientation on how a grazing enterprise operates. Participants will learn about the basics of a grazing operation and rotational grazing and get a chance to ask some questions about land management before the field day. Participants in this orientation are asked to attend the entire field day to benefit fully from this event.
For more information on this "Renting It Our Right" orientation, contact LSP's Robin Moore at 320-269-2105 or rmoore@landstewardshipproject.org.
-30-