Local Residents Deliver 687 Postcards from Across Minnesota to Jeff Kohlnhofer at Kohlnhofer Insurance Agency
LAKEVILLE, Minn.—In the wake of a ruling from the Minnesota Court of Appeals, rural neighbors to a proposed factory hog farm in Goodhue County's Zumbrota Township gathered in Lakeville today to announce their next steps in the fight to stop Jeff, Mike and Yon Kohlnhofer from constructing the facility.
The Court of Appeals issued a ruling today in a case that local residents had filed against the Goodhue County Board of Commissioners. Citizens argued that the board acted unfairly when it rushed to approve the factory farm permit. In its ruling, the court disagreed with the citizens, despite strong evidence that the commissioners failed to fully implement the Goodhue County Zoning Ordinance when they approved the Kohlnhofers' permit for a 4,700-hog factory farm in February.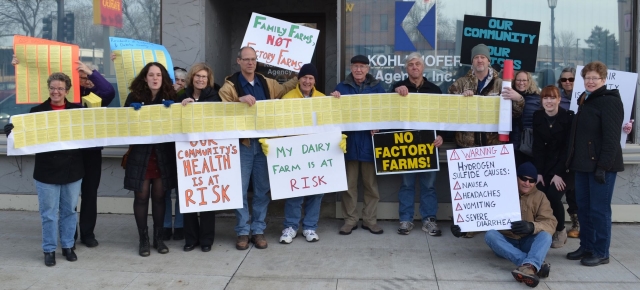 "We're disappointed that the court overlooked the ways in which the Goodhue County Board failed to implement our zoning ordinance," said Zumbrota Township resident Kristi Rosenquist. "But let's be clear: the people who have ultimate responsibility to stop this mess are the Kohlnhofers. We're demanding that they listen to the people and withdraw this proposal."
In the meantime, neighbors to the proposed facility have been collecting postcards from people across Minnesota urging the Kohlnhofers to withdraw their factory farm proposal. The postcards are addressed to Jeff Kohlnhofer, who co-owns Circle K Family Farms with his brothers Mike and Yon. If it is built, the latest Circle K Farms facility would be in addition to seven the Kohlnhofers already own and operate in the region. The 687 postcards were hand-delivered to Kohlnhofer Insurance of Lakeville, where Jeff Kohlnhofer is an insurance producer.
"It's wrong to profit at the expense of Minnesota's rural communities," the postcard says. "That's why I'm asking you to do what's right: withdraw Circle K's proposal for a new factory farm in Zumbrota Township now."
During Monday's press conference, neighbors to the proposed facility also announced that they would be running a newspaper advertisement to help people in the Lakeville area understand the danger the Kohlnhofers' existing factory farms already pose to the human and environmental health of Goodhue County. For example, citizen monitoring of hydrogen sulfide emissions at six Circle K farms this summer showed the company was likely exceeding health risk values set by the Minnesota Department of Health at four of the facilities, and two facilities may be violating state ambient air quality standards, set by the Minnesota Pollution Control Agency (MPCA). As a result of these results, the MPCA announced last week it would be conducting further monitoring of hydrogen sulfide emissions at one of the Kohlnhofer facilities.
"We're not alone," said Zumbrota Township farmer and Land Stewardship Project member Dale Post. "People across Minnesota are saying 'no' to factory farms. It's past time for the Kohlnhofers to listen."
-30-