Five years into her farming career, Janna Goerdt has learned a lot about how to use sweat equity to coax the most production out of the soils of Fat Chicken Farm near Embarrass. But the 40-year-old former journalist has also gotten savvy about how to set some sustainable limits on both her farm and herself.
"The thing I've realized is your enthusiasm can only take you so far," said Goerdt one recent morning while taking a break from harvesting vegetables on the former dairy operation. "You have to be realistic about what you can do and what you can keep up doing."
For Goerdt and other area graduates of the Farm Beginnings course, such smart planning is second nature. That's because a key component of Farm Beginnings is to teach students how to not only develop a business plan and market their products, but how to balance growth of a new operation with the financial, physical and technical resources available to the farmer, according to Cree Bradley, coordinator of the course in the Lake Superior region.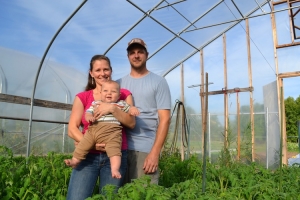 In 2013, the Farm Beginnings program is marking its 16th year of providing firsthand training in low-cost, sustainable methods of farming. The course is tailor-made for people of all ages just getting started in farming, as well as established farmers looking to make changes in their operations. Farm Beginnings participants learn goal setting, financial planning, enterprise planning, marketing and innovative production techniques.
Classes are led by farmers and other agricultural professionals from the area and Farm Beginnings graduates are involved in a wide-range of agricultural enterprises, including grass-based livestock, crops and Community Supported Agriculture (CSA). Started in Minnesota, the Farm Beginnings model of farmer-to-farmer, community-based education has been replicated in several states and serves as a model for the USDA's national Beginning Farmer and Rancher Development Program.
A partnership between the Land Stewardship Project and the Lake Superior Sustainable Farming Association is making the Farm Beginnings course available in Esko, Minn., beginning this fall. This is the fifth year the class has been offered in the Lake Superior area and Bradley says the strategic planning portion of the course is particularly important in a region where new farmers often find a huge demand for the local produce, meat and other products they raise.
"A big issue for beginning farmers is the idea of dealing with demand," said Bradley, who operates a Chelsea Morning Farm CSA near Two Harbors. "We talk in Farm Beginnings about building slow. We talk about a strategic business plan."
Farm Beginnings graduates Todd and Kelsey Rothe agree that strategic planning is critical. They raise vegetables on River Road Farm near Marengo, Wis., for the wholesale market as well as a CSA collective. Todd, 38, recently re-entered farming after taking six years off. He says when he was farming before, he knew how to produce a lot of vegetables, but didn't "handle the numbers" so well and became burned out by the workload. This is the second year the Rothes have raised produce in their current location; they are cultivating around one-and-a-half acres of vegetables on the 30-acre farm, with plans to grow.
"It's like a lion on a leash," said Todd. "We could definitely plant every available acre and it would still be sold. But we have to keep that holistic goal in mind of balancing growth with quality of life and developing a sustainable business."
Kelsey, 29, said Farm Beginnings didn't so much teach them how to farm as how to manage their enterprise in a way that they could figure out if day-to-day decisions were fitting their overall goals of making a comfortable living while being an asset to the community.
"We want to grow smart, instead of exploding," she said after showing off the couple's collection of hoop houses and moveable greenhouses recently. "You need to have a plan and get it on paper."
Three Farm Beginnings graduates from the Duluth area credit the course's reliance on established farmers as instructors as the key to providing the kind of grounding needed to develop realistic expectations of a new business. Lori Anderson, 46, raises vegetables for local markets on "Growing Farms," an incubator for new producers up the road from University of Minnesota-Duluth's Research and Field Studies Center. She grew up on a farm near Kelsey, Minn., and would like to eventually reclaim that now overgrown land for food production. For the past several years Anderson has been involved in her family's polar fleece accessory business.
"Since I'm in business I know that end of it, but when it comes to weather and plants, nothing ever goes by the book — you need to talk to someone who has the experience," said Anderson while taking a break at Growing Farms with two other Farm Beginnings graduates, Michael Latsch and Jason Aronson. "The farmers are so willing to share information in Farm Beginnings."
Brian DeVore is the editor of the Land Stewardship Letter.