The Land Stewardship Project, sustainable agriculture and family farming lost a true friend this week when Dan Specht was killed in a tragic farm accident. He was 63. (See obituary here.)
Dan, who farmed above the banks of the Mississippi River near McGregor, in northeast Iowa, had been a pioneer in innovative, sustainable farming methods for several decades. He had done nationally-recognized on-farm research related to rotational grazing, cover crops, water quality and blending working farmland with wildlife habitat restoration. Dan was also a national leader in work to develop public policy that benefited sustainable agriculture and the environment, as well as provided family farmers fair access to markets.
The Land Stewardship Project benefited in innumerable ways from Dan's long-time, active membership, and since 2010 he had served on our Board of Directors. He was also a long-time and influential member of LSP's Federal Farm Policy Committee, and in this capacity he testified before Congressional committees, authored commentaries and helped develop innovative public policy such as the groundbreaking Conservation Stewardship Program.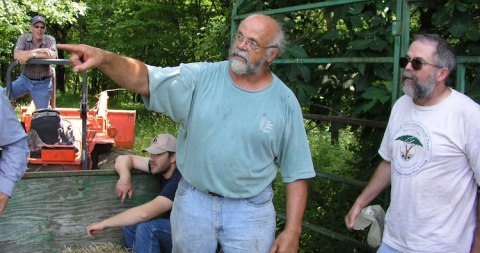 Dan was also a major player in the National Sustainable Agriculture Coalition and the Practical Farmers of Iowa, and was recognized as a national expert on such issues as agriculture's role in the development of the Gulf Dead Zone. This latter issue was particularly important to Dan, given his passion for the Mississippi River and fishing.
"It's really fragile," he once said of the area where the Mississippi meets the Gulf. "It's vast, but it's fragile."
Whether on his farm hosting field days, testifying before lawmakers, participating in organizing meetings or giving interviews to the media, Dan was known for his passion for the land and social justice, as well as his desire to create a food and farm system that was based on sustainability and fairness. Dan was also well known for his quiet wisdom and in-depth, nuanced knowledge of not only farming, but ways it interacted with the ecosystem and the wider community.
The sudden loss of Dan Specht has left a massive hole in all of our hearts at a time when thoughtful, innovative farmers like him are needed more than ever. The Land Stewardship Project sends its thoughts and condolences out to the many, many people who were touched by a great life that was cut all too short.
To read more about Dan Specht's work and life, see these links:
• "Bobolink Central: Specht manages pastures for cattle and birds" is an article published in the June 28, 2013, edition of Agri News. It describes how Dan was using managed rotational grazing to create prime habitat for wildlife such as grassland songbirds.
• "Dead Zone Puzzle" is an article that appeared in the July-August 2011 issue of the Minnesota Conservation Volunteer. It describes how farmers like Dan were using diverse production systems to improve water quality in the Mississippi River and beyond.
• "New National Farm Bill Platform Good News for MN Ag" was published in March 2012 and describes the role of Dan and other LSP Federal Farm Policy Committee members in developing a new policy platform called, "Farming for the Future: A Sustainable Agriculture Agenda for the 2012 Food and Farm Bill."
• "PFI Farmers Speak Up for Conservation During D.C. Fly-In" describes Dan's trip to the nation's capitol in April 2012 to advocate for sustainable agriculture.
• "Humble Pie Summer" describes what Dan and his brother Phil were doing to develop and protect bird habitat on their northeast Iowa farms.
• "CSP an opportunity for farmers" is a commentary co-authored by Dan and published in the September 30, 2009, edition of Iowa Farmer Today. It describes how the Conservation Stewardship Program could be a new way to support farmers, achieve greater conservation, and bring greater equity to farm programs, while making our food and farming system fairer, more resilient and more accountable.