What do you do when a resource becomes increasingly scarce? One option is to use it more efficiently. That's a key point livestock producer Greg Judy is going to make Sept. 9-10 in Alexandria during what promises to be a fascinating set of workshops. In this case, the resource that's becoming harder to come by is pasture. Judy's answer? Bring in the mob. (For an LSP podcast featuring Judy, click here.)
The Chippewa 10% Project and its partners are bringing the grazier/author to Alexandria to talk about how to increase the value of perennial landscapes for an important reason: farmers and landowners who have pasture or CRP ground increasingly see annual row-cropping as the only viable financial option in the long term.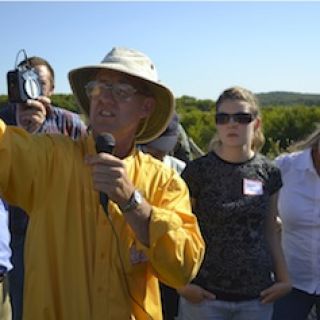 Ag statistics show an alarming amount of pasture was falling to the plow even before commodity prices made their recent run at hitting historic highs. With $8 corn a distinct possibility this fall, look for even more grasslands to be converted to row crops. This is not only bad news for diversified agriculture—it's also sure to have negative impacts on Midwestern farmland that is already suffering from excessive soil erosion and an unhealthy water cycle. Our rural landscape needs more perennial plant systems like pasture grass to hold soil in place and revive the hydrological cycle, not less.
One way to make keeping pasture around is to add value to it, to generate "profits from perennials." That's exactly what Judy is doing in the rolling hills of north-central Missouri. Around a decade ago, he started noticing there was a lot of fallow land in his neighborhood that was in poor condition. He started approaching landowners—many of whom were absentee—and asked them if they'd like to make some money on those acres while improving the soil quality.
He was going to do this by rotationally grazing cattle on these lands, an efficient method of livestock production that improves the nutrient cycle while allowing grasses to get established and thrive. The problem was, Judy didn't own any livestock. So he struck a deal with local livestock owners to custom graze cattle through leasing arrangements.
Within two years, he was grazing on five leased farms. Judy's investment consisted of high tensile portable electric fence and a four-wheeler. The monthly checks he was receiving from livestock owners allowed Judy to pay off his debts and start building a nest egg. He was also able to build up his own herds of livestock. Today, Judy owns around 325 head of cattle—mostly stockers and cow-calf pairs. He also owns a sheep herd.
All of this stock is grazed on some 1,200 acres spread across eight farms. He is still renting land, and no longer leases livestock. But Judy would recommend custom grazing to any beginning farmer who wants to get started in the livestock business with a minimum of investment.
"I wouldn't be where I'm at without custom grazing," Judy told me over the telephone Thursday. "For a young person getting started in livestock, custom grazing is the way to go."
But Judy's Green Pastures Farm isn't practicing just any old type of rotational grazing. He is exposing those pastures to what is referred to as "mob grazing." This consists of bringing a relatively large amount of livestock onto a small area of pasture for 24 hours or so, and then moving them. During that short, intense period, cattle, for example, will deposit a lot of nutrients in the form of urine and feces, stomping them into the ground where they can help revitalize the soil. Judy feels that during this short period livestock focus on taking the top one-third of the plant, which is the most nutritious.
Before he was mob grazing, Judy was stocking pastures at a rate of four acres per 1,000 pounds of live weight. Now he's got that down to 1.8 acres per 1,000 pounds of animal.
"With our grazing style, we've doubled our stocking rate," he said. "If you double the cattle you are running on a piece of land, that's like someone giving you another piece of land. You can double your production without increasing the input."
Judy relies on long periods between grazings, and will rest a pasture for as long as 100 days to stockpile grass—a strategy that's paying off for him this summer, since north-central Missouri hasn't had a good rain since mid-June. Judy watches his rotations closely, and will pull livestock off sooner if it looks like the pasture needs a break.
The result is not only a more efficient way of producing livestock, but an improvement in the landscape. Judy said much of the marginal land he's grazing is starting to build up organic matter. Last week the farmer counted over 460 earthworms in one 12-inch patch of manure that was two inches high. This isn't the first time I've been exposed to this idea. Back in the 1990s, I saw firsthand how farmers in southeast Minnesota were improving riparian areas through brief, intense grazing, much to the surprise of some natural resource experts.
"I'm giving [landowners] an opportunity to take a bare piece of ground and improve it," said Judy, adding that he's even done some brush-busting by mob grazing timbered areas. "I'm a firm believer that cattle destroy timber if they are allowed access to it 365 days a year. But with very short- term mob grazing, we can improve timber." (Three landowners he leases land from are deer hunters and like what the cattle are doing to improve wildlife habitat.)
He is the first to admit that north-central Missouri is not northern Minnesota, or even southwest Minnesota. Judy grew up on a dairy farm in the Pine City area, and knows how deep the snow can get around here.
"I realize you cannot graze during those winters," he concedes, noting that sometimes he is able to have cattle out on pasture throughout the winter by supplementing their diet with hay.
But Judy feels farmers in northern climes can make better use of grazing lands by stockpiling grass in the late summer and early fall, providing some browse if there's an early snow melt in March, for example. Such a strategy could knock as much as a month off of supplemental feeding, which is more dollars in the farmer's pocket.
Judy also knows that since he's grazing marginal land in his part of Missouri, he's mostly not competing with corn and soybean farmers, who are increasingly willing to pay unprecedented cash rent prices to row-crop land. But even in Minnesota's Corn Belt (and north of there), there are marginal lands that could be made profitable through managed rotational grazing.
And if corn prices keep rising, raising livestock on pasture is going to become even more preferable when compared to feeding them expensive grain. Also, Judy's investment in fuel-burning implements is limited to things like four-wheelers, making him even more competitive as energy prices skyrocket.
"We're in the best business in the world," Judy said before hanging up to go check on his livestock. "Corn at $10 a bushel? It's going to make grass even more valuable."
Which brings us back to the question of what to do with a scarce commodity. Using it more efficiently can not only make a little go a long way, it can also provide the incentive to bring more of that resource back onto the land.