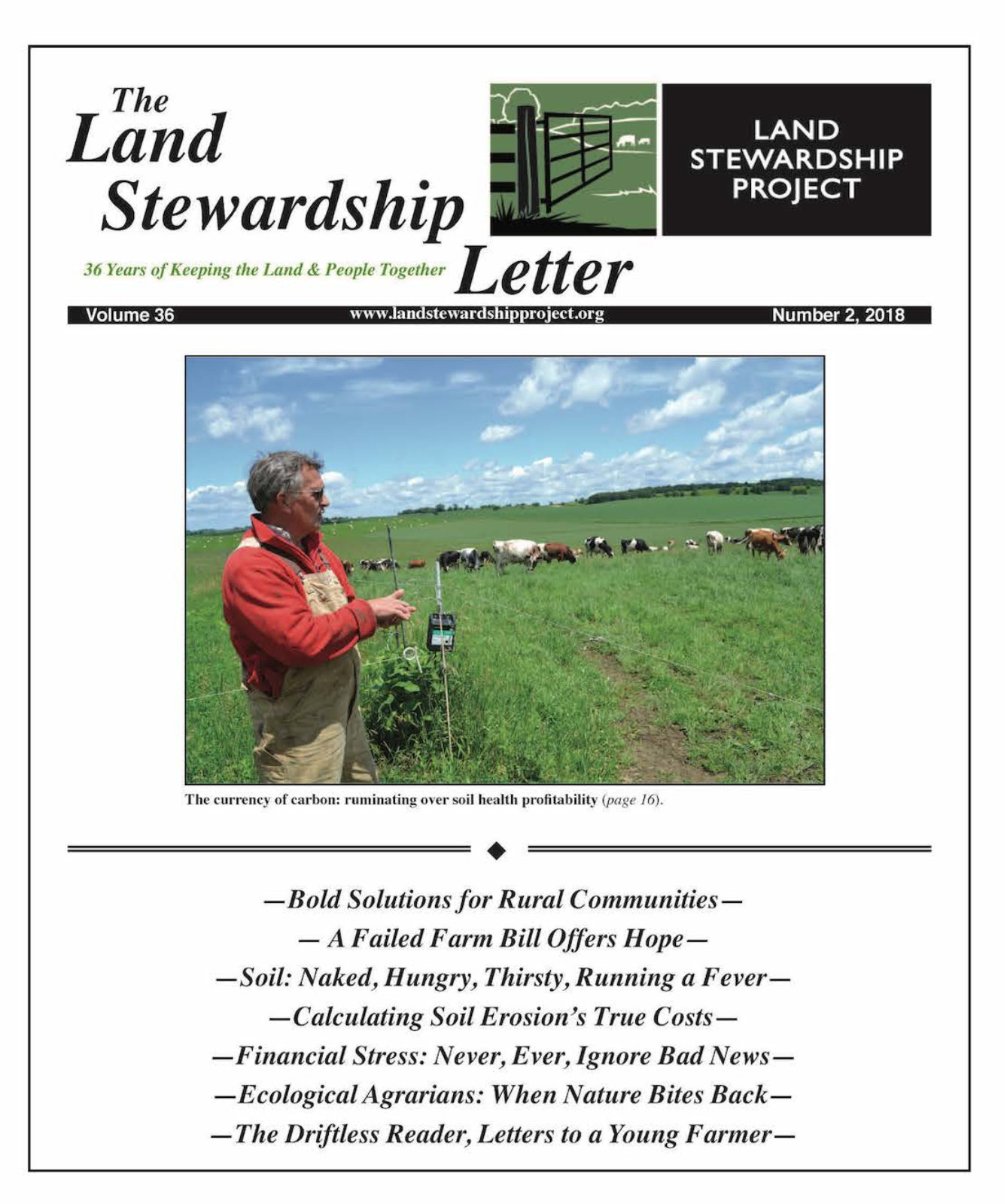 • A pdf version of this Land Stewardship Letter is here.
• Archived Land Stewardship Letters are here.
• For paper copies of the Land Stewardship Letter, contact Brian DeVore via e-mail
Table of Contents
The Roots of LSP's Work…3
• Bold Solutions Call for Bold Action
LSP Financial Update…5
LSP News…6
• Family Farm Breakfast at the Capitol
• Shoptaugh Named Operations, HR Manager
• Wasserman-Olin Departs LSP
• Remembering Dwight Ault
• Dining Out & Supporting LSP
Policy & Organizing…8
• Minn. State Legislative Update
• Breaking Healthcare at the Legislature
• Wasting Public $$ on Private Insurers
• House Version of Farm Bill is Bad News
• Talking Farm Policy in Wisconsin
• LSPers Advance a Bold Vision to Candidates for Minnesota Governor
Soil Health…14
• Ray Archuleta's Passion for Living Soil
• Pocket Guide to the Power of Soil
• MISA Turns 25
• LSP Soil Builders' Network
• The Currency of Carbon: Protozoa, Pastures & Profits
Seeking Farmers-Seeking Land Clearinghouse…22
Farm Beginnings…23
• Applications Open for 2018-2019 Class
• Farm Beginnings in Other Regions
• Farm Dreams Class July 29
• Beginning Farmer Tax Credit
Farm Financial Stress…24
• Never, Ever, Ignore the Problem
• Do You Need Help?
Ecological Agrarians…26
• When Nature Bites Back
Reviews…28
• The Driftless Reader
• Letter to a Young Farmer
Membership Update…30
• Volunteer Opportunities
• Membership Questions?
• Get Current with LIVE-WIRE
• Ear to the Ground Podcast
• Support LSP in Your Workplace
• In Memory & in Honor
• Check Out the LSP Meeting Room
Stewardship Calendar…32