• An online version of the Land Stewardship Letter is here.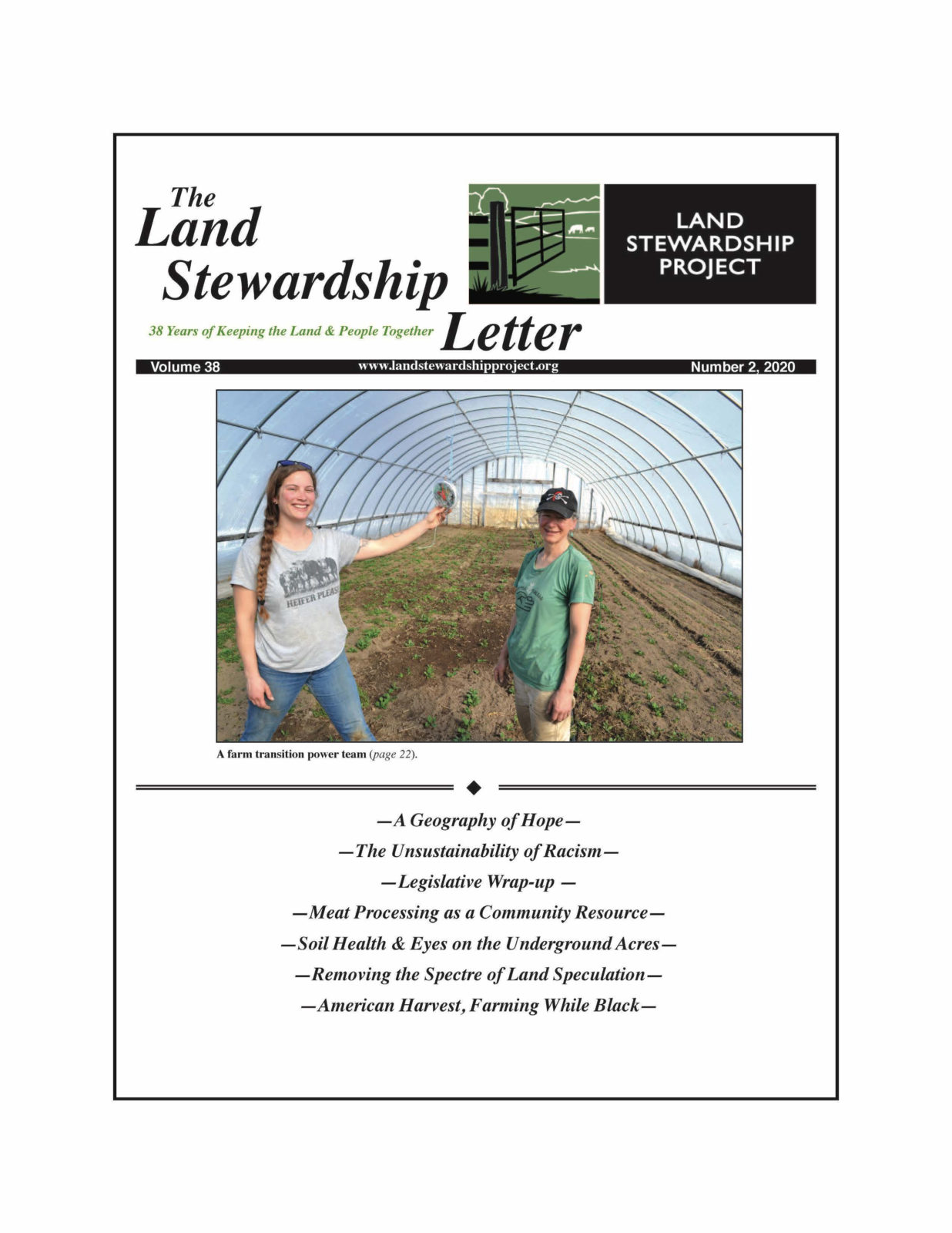 • Archived versions of Land Stewardship Letters are here.
• Paper copies are available by contacting Brian DeVore at 612-722-6377 or at via e-mail.
Table of Contents
Stewardship Roots…3
• One Disruption Away
• COVID-19 Crisis Resources
• A Geography of Hope
Myth Buster…6
• Big Meat's Big Lie
LSP News…7
• Staff Changes
Policy & Organizing…8
• MN State Legislative Wrap-up
• Organizing & Social Change Cohort
• Shocks to the System
• Loan Guarantees & Other Foreclosure Help
COVID Community…12
• Packing Plants as Community Resources
• Survey: Lack of Processing Hobbling Local Meat Production
Justice on the Land…13
• Racism is Not Sustainable
• LSP & Social Justice
• Time to Level the Farm Playing Field
• Where Do We Go After George Floyd?
Soil Health…18
• Eyes on the Underground Acres
• Join the Soil Builders' Network
Farm Transitions…22
• A Farm Transition Power Team
• Removing the Spectre of Speculation
• Farm Transition Tools
• Is Farming in Your Future?
• Seeking Farmers-Seeking Land Clearinghouse
Reviews…28
• American Harvest
• Farming While Black
Membership Update…30
• Are You Registered to Vote?
• Membership Questions?
• Get Current With LIVE-WIRE
• In Memory & in Honor
• Support LSP in Your Workplace
• When We Lose Farmers, We Lose Community
• Crisis Resources
Stewardship Calendar…32
• LSP Online Field Days
Farm Beginnings…32
• 2020-2021 Course Accepting Applications