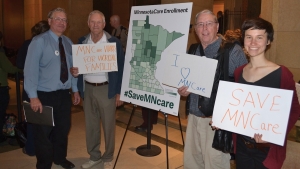 Health insurance companies in Minnesota are raising monthly premiums in 2017 by more than 50 percent on families that buy individual insurance plans. It is the clearest sign of a healthcare system in crisis, and we need to act together to build a healthcare system that provides quality, affordable healthcare for all Minnesota families.
Our current health insurance system is a huge, costly barrier to prosperity, sustainability and equity in our state and nation. Access—for everyone—to affordable, quality healthcare is critical if we are to have communities where sustainable, family farm-based agriculture thrives.
That is why we are building the base for meaningful, sustainable healthcare reform that prioritizes people's health over profits for health insurance corporations.
Health Insurance Options for 2017
Visit this page for detailed information and ideas about finding a 2017 insurance plan that is as affordable as possible.
• Consider enrolling through MNsure to receive money-saving tax credits that can help you afford your premium.
• Learn about MinnesotaCare, Medical Assistance, and small-group plans that could be options for some LSP members.