Crop Insurance: A Torn Safety Net
Why the Farm Bill's Biggest Agricultural Program is a Boon to Corporations and a Bust for Family Farmers & the Land
A Land Stewardship Project Special Report (March 2018)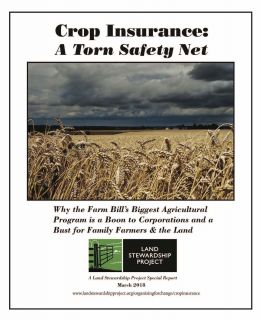 Federal crop insurance, the Farm Bill's biggest agricultural program, has transformed from a key safety net for our nation's farmers to a system that consolidates land ownership, shifts billions of dollars in public funding to large corporations, and harms the land and water. In March 2018, LSP published a special report on federal crop insurance. "A Torn Safety Net," which is based on research of public records and interviews with farmers and others, shows that:
• Federal crop insurance is the only Farm Bill subsidy program without per-farm subsidy limits. Currently, a common sense $50,000 cap on premium subsidies would allow corn/soybean farmers in Minnesota to farm in the neighborhood of 3,000 acres before being impacted by the limit.
• Federal crop insurance discourages farming pratices that build soil health, increase crop disversificiation and prevent erosion and nutrient run-off. In other words, crop insurance promotes intensive mono-cropping systems that are more, not less, risky.
• For the past several years, national median farm income has been negative—farmers are losing money. However, insurance companies have seen their profits skyrocket, thanks in part to billions of dollars in public funds given to them over the past decade to administer the insurance program.
• The crop insurance industry has worked hard to protect its profits. For example, insurance corporations have spent millions of dollars lobbying Congress to successfully reject attempts to reform crop insurance and make it more accountable to the public and more useful for family farmers.

The release of "A Torn Safety Net" comes at a time when lawmakers, including members of Minnesota's Congressional delegation, are beginning to draft the 2018 version of the Farm Bill. This provides a prime opportunity to reform crop insurance by placing limits on premium subsidies and ending the exorbitant profitmaking insurance corporations enjoy as a result of this publicly funded program. Congress should also transform crop insurance into a program that rewards the kind of farming practices which make our land more, not less, resilient.