In 2017, the Land Stewardship Project joined with many of Minnesota's strongest people's organizations in a new collaboration, "Our Minnesota Future."
Our Minnesota Future is made up of 22 organizations that work on a wide range of issues and priorities (see list in the sidebar of this page). We organize people all across Minnesota. Together, we seek to build people-centered governing power to address the critical issues our people and communities face.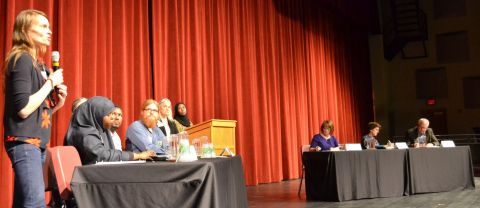 The idea of Our Minnesota Future is that regular people, and people's organizations, need a stronger voice in our government. We need elected leaders who commit to govern alongside us, and who work with us in deep partnership to create the changes we envision for people and the land.
The Our Minnesota Future organizations are tied together by a set of core values and beliefs that drive our work:
We are building a community where everyone is in and no one is left out.
We are building a community based on care and compassion.
We believe we are connected to each other and that we succeed or fail together.
To make progress toward these values, we think three major things need to be done:
We need to go after bold solutions that match the scale of the challenges we face.
We need to have leaders who govern with us, making decisions in partnership with everyday people and people's organizations.
We need to change the public narrative that limits what is possible, and lift up a healthier story that is rooted in our values.
Throughout 2018, we are discussing these ideas with candidates for Minnesota governor and other offices. We are building relationships with them and identifying the bold solutions we can work on together, with the goal of working in a new way alongside the next governor and administration.
Our Minnesota Future Event with Candidates for Governor
LSP and other Our Minnesota Future organizations held a major event with candidates for Minnesota governor on April 29, 2018, in Willmar, Minn. We focused on how the candidates will work with us toward the bold solutions that we need in rural communities and across Minnesota.
Episode 211 of LSP's Ear to the Ground podcast features LSP farmer-members Josh Reinitz, Laura Frerichs, Anna Racer and Bryan Simon speaking to the candidates for governor about "bold solutions for rural Minnesota."
Our Minnesota Future partner CURE posted a livestream video of the entire event on its Facebook page.