From the beginning of the 2018 Minnesota Legislative session, it was clear that corporate interests and their legislative allies were pushing for special treatment at the expense of rural communities, family farmers and Minnesota values. As an example, six days into the session, Dr. Marin Bozic, a dairy economist at the University of Minnesota, testified before a joint Senate Agriculture Policy Committee and Finance Committee hearing held on the state of agriculture in Minnesota.
Stating he was testifying on behalf of Minnesota Milk and the U of M, Dr. Bozic said, "We are going to see a number of dairy farmers that are no longer competitive… We would be doing them a disservice by offering some handouts that would prolong their hope but really there is nothing there to hope for." He then lifted Riverview Dairy, an 8,000+ cow dairy in Morris, Minn., as the prime example of what type of operation our state resources should be focused on. (His full testimony can be found here, starting at 1:06:15.) Dr. Bozic's assertions that more factory farms are inevitable for Minnesota's future, that they should be supported by state resources, and that small- and mid-size family dairy farms are no longer viable, went unchallenged by Senators on the committees.
To counter this, the Land Stewardship Project had a strong presence at the Capitol throughout the Legislative session, and stood up for family farmers, healthy rural communities and Minnesota values.
Here is a taste of how LSP members took action:
• Hundreds of members attended the LSP Family Farm Breakfast at the Capitol on April 12 and Water Action Day on May 2.
• Josh Reinitz of Henderson and Darrel Mosel of Gaylord, both LSP farmer members, testified in opposition to weakening the Minnesota Groundwater Protection Act.
• James Kanne, LSP member and a dairy farmer from Franklin, Minn., testified in support of increased funding for Farm Advocates and Farmers' Legal Action Group, organizations that aid farmers, including those facing financial stress.
• Hundreds of members engaged in action alerts by making calls and sending messages urging their elected officials to stand by Minnesota values.
The LSP way is to promote the best and fight the worst. For the best, we worked for an improvement to the Beginning Farmer Tax Credit, increased funding for the Forever Green Initiative at the U of M, and increased funding for the Farm Advocates initiative and Farmers' Legal Action Group.
Here is a summary of what happened this year:

For the first time in five years, we were unable to secure legislative funding for the Forever Green Initiative. The Forever Green Initiative at the University of Minnesota is doing cutting-edge science related to help farmers get more continuous living cover on the land using perennials and cover crops. Last session, LSP worked with the Minnesota Environmental Partnership to secure $750,000 per year for the program, not on par with the usual $1 million per year the initiative had received. This session, an additional $500,000 to cover the difference was included in the House Omnibus Legacy Finance Bill. However, the Senate took no action and the Legacy Bill died.

No improvements to the Beginning Farmer Tax Credit. Passed last year after years of strong LSP membership engagement and active work at the Capitol, the Beginning Farmer Tax Credit requires improvements to ensure a greater number of prepared beginning farmers qualify. This legislation was a part of the Omnibus Agriculture Policy Bill, which was vetoed by Governor Mark Dayton due to inclusion in the bill of a controversial provision weakening the soil loss ordinance (see below).

No funding for Farm Advocates or Farmers' Legal Action Group (FLAG). Family farmers across Minnesota are facing a farm crisis after several consecutive years of low prices. Programs like Farm Advocates and FLAG assist farmers facing financial stress. These groups keep farmers on the land by by letting them know their rights when they are faced with foreclosure or other crises. For example, the number of new monthly cases taken on by Farm Advocates doubled between January and March, and is likely continuing to rise. A sum of $30,000 was included in the Legislature's budget proposal, although much more funding is needed. Although considered in committee, the Legislature disappointingly did not include funding for FLAG. Because the massive Omnibus Funding bill was laden with controversial provisions, Governor Dayton vetoed it on May 23. It's troubling that during a deep farm financial crisis, little time and resources were committed to this issue. Only a small amount of money was included in the supplemental budget for Farm Advocates. Priority and noncontroversial issues like this should have been moved as stand-alone bills, rather than part of a controversial omnibus bill.

Defeated legislation that would have weakened the Minnesota Groundwater Protection Act. LSP and our allies beat back legislation aimed to weaken the Minnesota Groundwater Protection Act's ability to regulate the over-application of nitrogen fertilizer, which is a major contributor of groundwater pollution. Three-quarters of Minnesotans depend on groundwater for drinking water. Strong opposition from the Governor was key in getting this legislation dropped from omnibus bills. Listen to Franklin, Minn., dairy farmer James Kanne address the issue at the Our Minnesota Future rally here.

Weakening of the excessive soil loss law was defeated. Just days before the end of the Legislative session, an unacceptable provision that severely undermined a law designed to address soil erosion was inserted into the Omnibus Agriculture Policy Bill. The intention of this law is to protect farmers and rural residents from excessive soil loss and erosion impacting their land. In cases where the county does not have its own soil loss ordinance, the law provides a mechanism for remediation overseen by the Board of Water and Soil Resources. Due to the provision undermining this law, Governor Dayton vetoed the overall Omnibus Agriculture Policy Bill. LSP supported that veto. Read our statement here.
Unfortunately, the Omnibus Agriculture Policy Bill contained many other positive policies that were prevented from passage due to the inclusion of this "poison" pill provision. Most importantly for LSP, included in the Omnibus Agriculture Policy Bill was the improvement to the Beginning Farmer Tax Credit cited above.

Reduction in funding for urban agriculture and Farm-to-School programs was defeated. Despite a state budget surplus, the Legislature's supplemental budget proposal would have cut funding for urban agriculture programs, the Good Food Access Program and the Farm-to-School Program by $250,000. These programs support the local food movement and urban agriculture. Farm-to-School is good for farmers, good for kids and good for communities. Allies at the Institute for Agriculture and Trade Policy (IATP) championed opposition to this proposal. This was part of the massive Omnibus Budget Bill that was laden with this and other controversial provisions that Governor Dayton vetoed on May 23.

Legislation to bypass the Public Utilities Commission, environmental review and public comment to green-light Enbridge Line 3 was defeated. Corporate interests and their legislative allies attacked the core American values of respect for an open and democratic process by passing legislation that disregarded the public comment, environmental review and certificate of need on the proposed Enbridge pipeline, as well as an expected June decision from the Public Utilities Commission. The legislation would have simply granted Enbridge the authority to start building on its preferred pipeline route immediately. The bill was passed in both the House and Senate, but was vetoed by Governor Dayton on May 19.

Outside corporate interests weakening democracy with "Guilty by Association" legislation (SF 3463) vetoed by the Governor. Legislation that would impose criminal and financial liability on those who attend or support a peaceful protest where critical infrastructure is damaged was passed in the House and Senate and later vetoed by Governor Dayton. This bill was being driven by outside corporate interests that want to chill dissent and prevent people from standing up to corporate power. Governor Dayton insisted that this provision be removed from the Omnibus Supplemental Bill, and it was, but the Legislature proceeded to pass it as a stand-alone bill. We called for a veto. More information can be found here, in a blog by LSP organizer and hog farmer Paul Sobocinski.
LSP organizer Amanda Babcock can be reached at 612-722-6377 or via e-mail.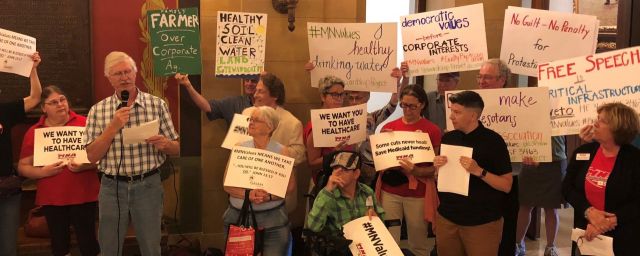 LSP farmer-member James Kanne called for strong groundwater protection during an "Our Minnesota Future" rally outside Governor Mark Dayton's office on May 17.