On the Internet, you're only as old as you feel—at least until the person you're corresponding with travels from two states away to meet you face-to-face. When Dave and Deb Welsch started communicating via e-mail with Steve and Shelley Lorenz in 2007, a lot of assumptions were made about the age of the parties on both ends of the cyber-conversation.
"We thought they were going to be in their 60s," says Steve.
"And we were thinking of someone in their 20s," counters Deb.
Imagine everyone's surprise when the Welsches turned out to be in their late 40s and the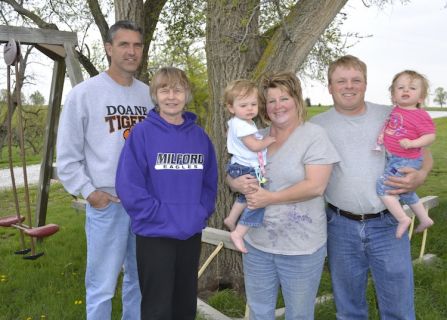 Lorenzes in their late 30s. Why the confusion? Because the correspondence was concerning whether Steve and Shelley wanted to move from southeast Minnesota to southeast Nebraska and work on the Welsch farm, eventually buying Dave and Deb out and taking over the operation. Such a discussion is based on some assumptions about the "established farmers" and the "beginners." The former should be near retirement age and the latter should be young, right?
Five years later, age is not an issue anymore—Steve and Shelley are putting the finishing touches on taking over Dave and Deb's 550-acre organic cropping operation. And the "older" couple, now in their 50s, are considering the next chapter in their lives.
Passing a farm onto the next generation is never easy, but when it's to a non-family member who lives in another state, the challenges can be particularly daunting. The Welsches and the Lorenzes feel that clear communication, clear-cut goals, and the willingness to be flexible on both sides made their transition relatively smooth. In the end, the fact that the veteran was younger and the beginner older than expected also turned out to be a key to success.
Expansion…now what?
Dave started farming in 1978 by renting land from a relative south of Milford, Neb., just down the road from where his parents, Eugene and Louise Welsch, were farming. Over the years he and Deb built up a thriving crop operation that now produces corn, soybeans, wheat, alfalfa and oats. They also began raising beef for direct-sale to customers in the area. In the early 1990s, big changes took place on the farm: the cropping operation became certified organic, they expanded their operation by 225 acres and they added 6,000 chickens to their direct-marketing business.
"We thought, 'Are we going to be able to handle all that?' " Dave recalls.
Questions about handling the increased size and scope of the operation loomed even larger when it became clear certain members of the family were no longer going to be as involved in the farm. Dave's father had been very active in the operation over the years; in particular he had handled the maintenance and upkeep of the equipment, something Dave concedes is his weakness. As he headed into his mid-70s, Eugene was starting to slow down.
"My Mom said I was working Dad too hard, which I was," says Dave.
In addition, their children, Rebecca and Ben, had gone to college. When Dave and Deb asked them about returning to the farm, they said they weren't interested in making production agriculture a career.
"I guess when you realize that your kids aren't coming back, you have a mental shift a little bit to where you say, 'Maybe it won't be a family member that will be farming it down the line,' " says Dave. "We didn't want to just sell it to the highest bidder."
Dave and Deb felt particularly compelled to find someone who would continue to farm their land organically. They were also proud of the direct-marketing business they had built up over the years: they have a customer base of 400 people within 30 miles of the farm. The Welsch farm's diversity and organic nature stands out in a part of Nebraska dominated by large-scale, conventional corn and soybean operations.
"We just knew we wanted someone to farm it organically," says Deb.
Looking for a farm
Steve and Shelley Lorenz had heard farmers talk about organics while taking the Land Stewardship Project's Farm Beginnings course in the southeast Minnesota community of Winona during the winter of 2006-2007. They liked organic's emphasis on taking care of the land and learned how an established organic system can have a high profit ratio. They saw it as a way to finally realize their dream of someday owning and operating their own farm.
Steve grew up on a 40-cow conventional dairy farm near Winona and actually operated it for three years after high school. However, it soon became clear his family was not going to change things on the farm to accommodate a new generation, so Steve got a job in town, where he worked as a truck mechanic for 15 years. Shelley grew up in Missouri and Illinois and attended the University of Wisconsin-La Crosse. From the time she and Steve got together, they had talked about farming someday.
"We just kind of committed to do something," she says, adding that the Farm Beginnings class helped them to see that there were numerous opportunities in agriculture without going the large-scale, conventional route.
They began searching for situations where they could transition themselves into an operation. Through various networks, they learned of such possibilities in the Midwest, even visiting a couple of farms.
"Things just didn't feel right," says Shelley of those visits/interviews they did. Steve says part of the problem with looking for a farming situation remotely is that it's difficult to get an objective sense of what the operation is like through the standpoint of people who have poured their whole life into an enterprise.
"When I got to some of the places, they just weren't what I had pictured," says Steve. "When a person tries to summarize their operation I think you're trying to put a lot into a short paragraph—you can misrepresent yourself without even trying."
In early 2007 they heard through LSP connections that the Welsches were looking for someone to work on their organic operation, with the possibility of eventually buying it. The two families started e-mailing each other and things seemed to click from the beginning. Both couples share a Christian faith and see family as a priority (Steve and Shelley have two boys—Luke, 12, and Brandon, 10—and twin toddler girls—Cassie and Chelsea).
"And I knew that if Steve grew up on a dairy, he knew how to work," says Dave.
It didn't hurt that the first time the couple visited the Welsches, it was when Dave and his father were working on a car. "Before I knew it, Steve was underneath that car, looking at it," recalls Dave. "I liked that. One of our strengths is we don't have the same strengths. I like doing spreadsheets and don't make any decisions without making projections, and Steve likes maintaining and running equipment."
The Lorenzes were also impressed with the Welsches' commitment to "walk-the-talk" on conservation and taking care of the land.
By August 2007, Steve and Shelley had moved into a rented house near the Welsches.
The original plan
One of the first things the two couples did was jointly enroll in a class at the University of Nebraska called "Returning to the Farm." The class stressed the importance of communication and developing a long-range plan for making a transition.
What resulted was a plan that would make Steve an employee of the farm for one to two years, drawing a salary which would help he and Shelley eventually buy into the operation, starting with a 120-acre farm owned by Dave's parents. Within five years there would be a 50/50 arrangement where Steve and Shelley would be farming their own ground—which Dave up until that time had been renting from other landlords—and Dave and Deb would be farming the land they owned. The entire operation would still be considered one business unit and by year 10 the Lorenzes would have control of the whole enterprise.
The new plan
At first, things went pretty much as planned: Steve was a quick learner and the Welsches were impressed with the couple's maturity. They ended up buying the 120-acre farm in 2008 and moving onto it, and Shelley was able to carry her job from Wisconsin to a satellite branch in Lincoln, Neb.
But three years into the transition, a series of events threw those best laid plans for a bit of a tailspin. For one thing, Steve and Shelley had their twin baby daughters, which forced a decision about her current job. She was commuting to Lincoln each day to work and the new babies would require day care, which would have cost about the same as her salary. The 90-minute commute was also getting to be a grind.
Just as significantly, the intense management of organic cropping was starting to grind away at Dave. In 2010, seemingly endless rains had made weed control in the organic fields particularly frustrating. Steve and Shelley seemed to be catching on quicker than expected, and Dave and Deb were on the verge of being debt-free on their farm. Plus, beginning farmer loans through the Farm Service Agency were available at low rates.
"I've been farming for 30 years, so why not try something else?" Dave says. "Situations changed for both our families and we just tried to make adjustments accordingly."
The couples decided to basically cut the transition timeline in half. Since 2011, Steve and Shelley have done all the cropping on the owned and rented ground. By 2013 the younger couple will have finished purchasing the equipment.
The Welsches still own the home farm where they live plus two others totaling 400 acres, and have maintained their direct-marketing beef and chicken business. They cash rent their cropland to the Lorenzes and Dave is now an employee of the young couple's farm business, managing the organic audit trail and the bookkeeping. Perhaps even more importantly, the Welsches are still around as relatively young, energetic mentors.
Steve, who admits he's not a "risk taker," says he thinks it's particularly important to have the veteran farmer around for advice when the enterprise is as management-intensive as organic cropping.
"I've seen Dave make money at it, but it's different when you jump into it," he says. "It's not like anything conventional farming-wise I've ever done. The practices can have you beating your head against the wall, so just having a mentor is huge."
An ounce of prevention
Not being involved in the day-to-day operation of a crop farm has given the Welsches the chance to explore other aspects of agriculture. For the past two years, they've been working on contract with the Center for Rural Affairs and the Nebraska Sustainable Agriculture Society promoting organic farming throughout the state. The couple sees talking about an alternative approach to agriculture as an important way to get even more farmers on the land. Dave and Deb are convinced that in their particular case without organics they would not have been able to farm as long as they did. In fact, the Lorenzes have signed an agreement that as long as they are farming the ground, it will remain organic.
But whether it's organic or conventional, each farm is special, says Dave. And making sure what's special about that farm continues into the future requires just as much preventive maintenance as tractors and financial records.
"It's hard to pass on a farm. I think that's true of any farmer. They get pretty attached to the land, whether it be straight fences, the machinery or whatever," says Dave. "If it's a family member or not, the likelihood of the next generation being successful just increases the sooner you start that transition process."