The Land Stewardship Project envisions a food and farming system and thriving, healthy communities that work for everyone, no exceptions. Whether Black or white, immigrant or Indigenous, working class or middle class, queer or straight, man, woman, or non-binary, we all deserve dignified, productive, and creative lives. Racism, gender inequality, and economic injustice are major barriers to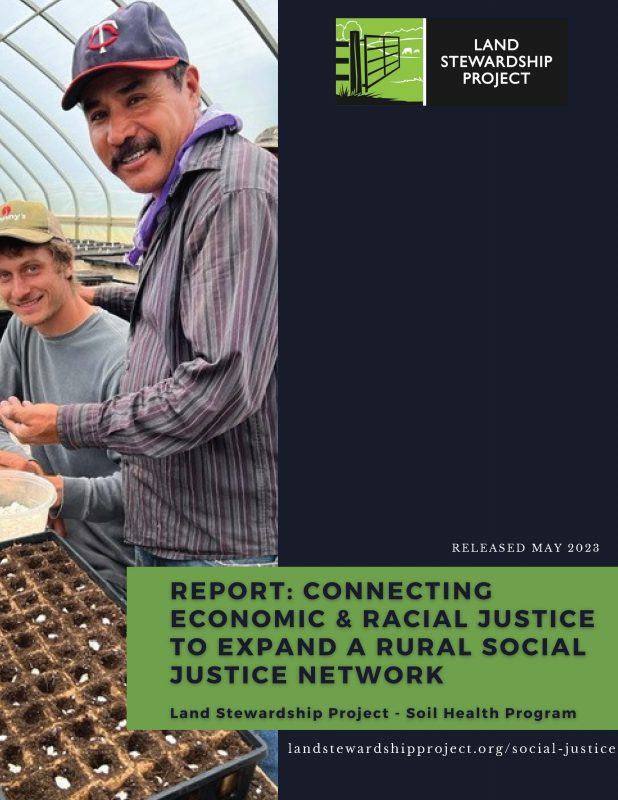 accomplishing the Land Stewardship Project's mission. Therefore, we must dismantle these systems of oppression and lift up collective liberation so we can all be free to live healthy and vibrant lives together.
As we care for the soil, we participate in the healing of the land. As we work to understand each other and eliminate oppression, we participate in the healing of community. Because we believe people and the land belong together, these aspects of stewardship and healing are inseparable.
The Land Stewardship Project has developed "Connecting Economic & Racial Justice to Expand a Rural Social Justice Network" as a reference document for any group, agency, or organization looking to establish and grow a social justice network in their locality. This report is also intended to guide other social justice networks through discussions and activities that draw out their values, experiences, and ideas for influencing social change in their communities.
For more information, contact LSP organizer Alex Romano via e-mail or at 641-220-6000.