Austin Crop & Livestock Farmer Testifies at Special Congressional Hearing on the Need to Support Healthy Soil in the Next Farm Bill
WASHINGTON, D.C.—Building healthy soil on agricultural acres doesn't just benefit rural communities, said a southern Minnesota farmer during a special Congressional hearing on soil health that was held in Washington today. And that's why it's key that the next Farm Bill encourages and supports farming systems that can build the biology of crop fields and pastures, said the farmer, Jon Jovaag, who raises crops and livestock on a diversified operation near Austin.
"Soil health impacts everyone, both rural and urban," said Jovaag, who is a member of the Minnesota-based Land Stewardship Project (LSP). He added that one of the most exciting benefits of increased soil health is that it allows the land to better manage water, an important issue for him since a mile of his family's farm borders the Cedar River.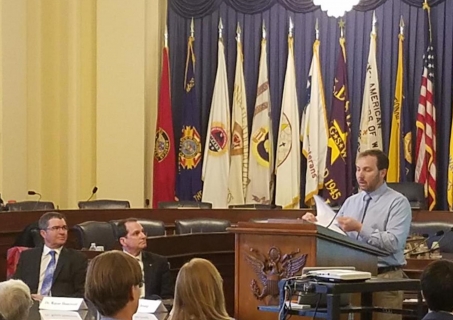 "I have seen firsthand what poor soil health and management can do," he said. "But if we can increase our soil organic matter by 1 percent, that soil can hold an additional 1 inch of water. That saves farmland, crops, urban housing and taxes."
The Congressional hearing was organized by Minnesota U.S. Representative Tim Walz as a result of on-farm meetings he held in 2017 with Jovaag and other members of the Land Stewardship Project. During those meetings, farmers made it clear that economically viable innovations in cover cropping, managed rotational grazing, diverse crop rotations and no-till production have made it possible to build soils that are able to manage water well while sequestering greenhouse gases. However, in order for such practices to become more prevalent, federal programs need to provide increased technical and financial assistance to farmers. This Congressional hearing, which, besides LSP, was presented by the Soil Health Institute, the National Sustainable Agriculture Coalition and General Mills, comes at a time when Congressional agriculture leaders are drafting the 2018 Farm Bill.
Jovaag has used USDA initiatives such as the Conservation Stewardship Program and the Environmental Quality Incentives Program to establish practices that get more cover on his land 365-days-a-year. The result has been less soil and fewer nutrients escaping his acres and making their way into the Cedar River. Jovaag said healthier soil is also helping his farm rely less on expensive chemical inputs, which is a financial benefit.
"But every farm has different goals, rotations and environments, so there is a learning curve," he said. "Every time you make changes to your operation you add risk. We all have to make a living."
During the past few years, Jovaag and other farmers in Minnesota have been participating in the Land Stewardship Project's Soil Builders' Network, which provides a chance for crop and livestock producers to share information on the latest innovations in building soil health. It's become clear that government cost-share funds, technical assistance and research play key roles in helping farmers adopt new soil smart practices that are financially viable.
"This is where federal policy that recognizes the benefits healthy soil provides rural and urban communities is key," said Jovaag. "Everyone will benefit."
-30-