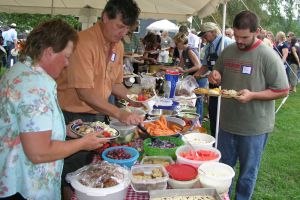 The Land Stewardship Project believes a community based food system is a just food system: one in which food is produced with a high level of stewardship for our soil and water, and with justice for all people. A just food system honors the flavor, texture and aroma of food produced at a community scale, and celebrates the place and the people who produce it. It delivers a fair profit for farmers and everyone in a short, value-based supply chain, and is accessible and affordable.
One key way LSP is pursuing a just, sustainable food system for all is through our Community Based Food Systems Program. LSP Community Based Food work is focused on three main areas of work:
• Food Systems & Land Stewardship—making the connection between how our land is farmed, the health of our environment, and our own food choices.
• Distributing Just Food—through short, community-based supply chains to get food from the field to the fork.
• Just Food for All—working to make sure people of all backgrounds and economic levels have access to healthy, sustainably-raised food.