The threat of heavy rain did not keep a group of prospective farmers away from the Seward Neighborhood of Minneapolis this past Saturday. Stefan Meyer of Growing Lots Urban Farm hosted a Farm Beginning field day at one of Growing Lots' urban locations, where he shared his experience with vegetable varieties, irrigation, compost, soil health and member logistics.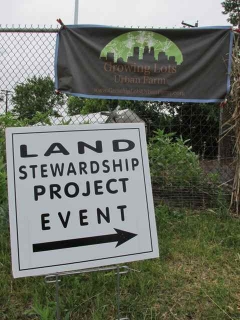 Gathered under the shelter of the hoop house, Stefan talked about the joys and challenges of farming in the city. Growing Lots Urban Farm is in its fifth year of operation and over that time has moved locations multiple times. The farm's operators consider their soil their number one asset and investment. So, with each move of the farm, the soil has moved with them.
Farming in the city has provided Growing Lots a unique niche. All of its CSA and market customers come directly to the farm on a weekly basis to pick up their produce. This gives the farmers and the eaters the chance to connect directly and for the consumers and their kids to see where and how their food grows.
The Land Stewardship Project organizes several on-farm field days as a part of its Farm Beginnings Class, and in recent years we've seen an increase in the number of prospective farmers interested in urban agriculture.
Farm Beginnings is currently accepting applications for our three 2014-2015 classes, which will take place in Watertown, Minn., La Crosse, Wis., and Ashland, Wis. For more information and to apply, visit our Farm Beginnings web page.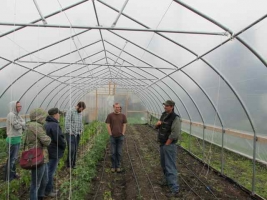 Nick Olson is a Farm Beginnings organizer and one of the owner-operators of Prairie Drifter Farm in Litchfield, Minn.