My wife Bonnie and I have a 160-acre farm near Kellogg. This is the farm I grew up on and we milked cows there until eight years ago. Since then we've been raising grass-fed beef. We are at that point in life where we are thinking about the next steps for ourselves and the farm.
I would like to share with you some of the work the Plainview Land Access Organizing Committee is doing.
After the Look Who's Knockin'play in Plainview we held, a panel discussion featured beginning farmers and retiring farmers giving their insights into the whole transition process and sharing some of the challenges they faced. At the end we asked the audience if anyone would be interested in forming a committee to address farm transitions and land access in the Plainview area. Several people raised their hands. This was the beginning of our committee
Since then we've had a nice mix of people of all ages meeting about once per month, although we take a break in the summer months.
One of our first projects was an event in Plainview called Farm Transition Stories. We wanted to continue the discussion that was started after the play and let people know about more of the successful farm transitions that have been occurring. We had several people who had been a part of a farm transition tell their stories and share the lessons they learned from their experience. We also had a couple of people who were still searching for the right opportunity share their hopes and dreams with us.
One of our committee's goals was to change the dominant narrative. Seventeen years ago when the Farm Beginnings class was first organized, the dominant narrative was that young people didn't want to farm, and even if some did there was no way for them to get started because you had to be big in order to survive and the numbers just didn't pencil out. We've found out that just isn't true. The Farm Beginnings course has had about 650 people take the course and I think there are about 60 percent of them engaged in some type of farming. Their endeavors include, dairy, beef, hog, poultry, grain and vegetables. Most of them are quite diversified.
The movement towards local foods has created a lot of opportunities to get started farming. As a committee we decided we needed to help the public become aware that it is possible for someone to make a living off the land even if they only had 10, 20 or 40 acres. We have many people in this room who have done it.
Our committee has developed good working relationships with the local media and they have helped us share some of our successful start-up and transition stories. Some of our committee members have also written commentaries for the papers. We want the new narrative to be that there are a lot of people out there that want to farm and that it is possible to make a good living on small acreages while producing healthy food for local consumption.
Another important part of the equation for helping many small scale farmers get access to land is to help them make the economic case for their operation so they can go to their lender with a well thought out business plan and numbers to back it up. We need to show the lender that it is possible to cash flow these types of operations. This is still a work in progress but we do have some farmers who have succeeded that are willing to share their numbers and we have a wonderful ex-banker on our committee who is helping us to understand how bankers think.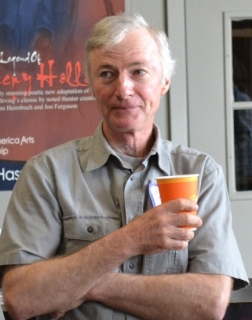 Another idea that kept surfacing was that it would be helpful to have a trained neutral party to help resolve differences between the two parties in a farm transition. This would be someone who would make sure both sides was being treated fairly and that all the right questions get asked and all the bases being covered. Out of this idea, we piloted the Farm Transition Coach Project. At this point, two coaches have been trained and they have worked through several transitions. We are in the process of accessing this project to see what the next steps will be.
Recently, we have been sitting down with fellow farmers and neighbors and having the discussion about what our values are and what we would like the future landscape to look like. Our hope is that this will enlarge our network and create more awareness of both the need and the opportunities that exist out there for beginning farmers. Hopefully this will result in building the kind of community we all desire.
One last thought, if you are a landowner considering selling your land and don't have a family member planning to take over, you may be faced with a choice. That choice could be to sell your land to a large crop farmer looking to expand or perhaps to a beginning farmer. To the large crop farmer, your farm might mean a couple extra days of planting and harvesting and a little extra income. But to the beginning farmer, that piece of land could be the opportunity of a lifetime and a chance to fulfill a dream.
Land Stewardship Project member Bill McMillin is co-chair of the Plainview Land Access Organizing Committee.