Neighbors Plan to Push Forward in Fight to Stop Proposed Factory Farm
SAINT PAUL, Minn. — Farmers and other rural residents of Goodhue County's Zumbrota Township gathered today at the headquarters of the Minnesota Pollution Control Agency (MPCA) in Saint Paul to express their frustration with an inaccurate and incomplete environmental review on a proposed factory hog farm in their neighborhood. The proposed factory farm would include 4,700 hogs and a 3.7-million-gallon liquid manure holding facility in an area highly susceptible to groundwater pollution and sinkhole formation.
In a closed-door decision on Jan. 20, MPCA Commissioner John Linc Stine denied citizens' demands for a new and accurate Environmental Assessment Worksheet (EAW), despite a promise to meet with citizens before such a decision was made. The Commissioner's decision ended any further environmental review by the MPCA of the controversial project.
Township residents met with Commissioner Stine today to highlight the many errors and omissions in the EAW.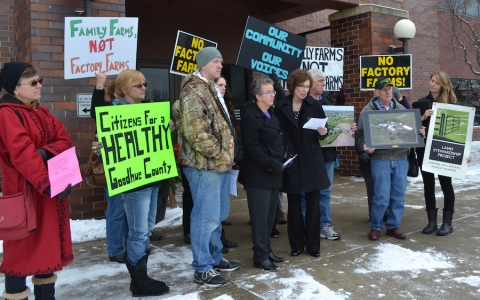 "The EAW was missing many of our homes and wells. It even predicts that this massive facility will be odor-free, which is preposterous," said Zumbrota Township resident and Land Stewardship Project (LSP) member Kristi Rosenquist. "We can't have confidence in a document that is so deeply flawed, and we can't trust the MPCA to keep our neighborhood safe."
Dale Post and Frederick Fredrickson, Zumbrota Township farmers whose homes were missing from the EAW, presented Commissioner Stine with aerial photos of their farms.
"I wanted him to know what he overlooked," said Fredrickson. "My dairy farm is my entire life. Commissioner Stine should know how much is at stake."
For more about the EAW's inaccuracies and omissions, see https://landstewardshipproject.org/repository/1/2018/list_of_inaccuracies_eaw.pdf.

Residents also expressed frustration that the Commissioner's decision was made in private. For the past two years, final decisions on whether to order new EAWs for controversial projects have resided with the MPCA Commissioner alone. Prior to that, Minnesota citizens could provide input on such decisions via the MPCA Citizens' Board, which was instituted in the late 1960s. Corporate agriculture interests and other critics of local citizen input pressured the Minnesota Legislature to eliminate the board in 2015.
After today's meeting, residents presented their concerns in front of the MPCA headquarters, holding signs that read, "Family Farms, Not Factory Farms" and "Our Community, Our Voices."
Zumbrota Township residents announced that they plan to fight the factory farm proposal as it moves on to the Goodhue County Board for a conditional use permit.
"Our air, water and family farms are valuable beyond measure," said Zumbrota Township resident Kathy Bramble. "We will keep fighting to protect our community."
-30-