Scaling Up Your Farm
The first decade of a new farm is full of challenge, sweat, growth, difficult lessons, satisfaction and joy. In order to get more successful farmers on the land, new farmers need to be able to establish their farms in a way that cultivates financial, ecological, personal and relationship sustainability.
The year-long Journeyperson Course is designed to support people who have several years of managing their own farm under their belt, and are working to take their farm to the next level. Through advanced farm business planning, mentorship, guidance on balancing farm, family, and personal needs, and a matched savings account, participants will find ways to make their farms truly and deeply successful.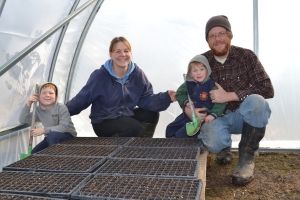 Journeyperson participants will:
Participate in two weekend planning retreats to receive meaningful training, while reflecting on and strengthening their farm plans.
Establish regular check-ins throughout the year with a farmer peer in the course.
Work with a farmer mentor through a partnership with the MOSES Mentoring Program.
Work with a financial adviser through a partnership with Farm Business Management.
Receive two years of free registration in the MOSES Organic Farming Conference and one year of free registration in the MOSES Organic University.