January 21, 7 am-6 pm
Land Stewardship Project
RSVP to Brian DeVore, LSP, 612-722-6377, bdevore@landstewardshipproject.org
If you are a Community Supported Agriculture (CSA) farmer operating in Minnesota or western Wisconsin, the Land Stewardship Project invites you to be listed in the 2019 edition of LSP's Twin Cities, Minnesota & Western Wisconsin Region CSA Farm Directory. An online version of the CSA Farm Directory will be available by Feb. 1 at https://landstewardshipproject.org/stewardshipfood/csa.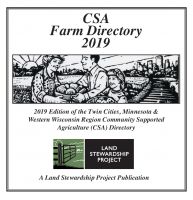 The listing fee is $15 for LSP members and $20 for non-members. There is a 250-word limit for listings.
For more information on having your farm listed, contact LSP's Brian DeVore at bdevore@landstewardshipproject.org or 612-722-6377.
To include your farm's information in the 2019 CSA Directory, click here for an online form. Listings must be submitted by Monday, Jan. 21, 2019. The Directory will be updated with the new listings on Friday, Feb. 1, 2019.