March 5, 7 pm-8:30 pm
River Falls Public Library, 140 Union St., River Falls WI 54022
Google Map »
RSVP to Brian DeVore, LSP, 612-722-6377, bdevore@landstewardshipproject.org
Brian DeVore of the Land Stewardship Project will discuss his new book, Wildly Successful Farming: Sustainability and the New Agricultural Land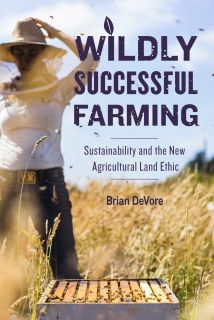 Ethic on Thuesday, March 5, beginning at 7 p.m., at the River Falls Public Library in River Falls, Wis.
Wildly Successful Farming tells the stories of farmers in Minnesota and across the Midwest who are balancing profitability and food production with environmental sustainability and a passion for all things wild. They are using innovative techniques and strategies to develop their "wildly" successful farms as working ecosystems.
DeVore will read from the book, sign copies and talk about what we can all do to support farming that integrates agriculture and ecology.
Other Reading Events this Winter & Spring
This is one in a series of Wildly Successful Farming events:
• March 5: Reading at River Falls Public Library, River Falls, Wis.
• March 14: Reading at Thomas Saint Angelo Public Library, Cumberland, Wis.
• March 16: Presentation at "Leopold & Agriculture Conference," Burlington, Iowa
• March 23: Wildly Successful Farming Presentation at Izaak Walton League Watershed Summit, Bloomington, Minn.
• April 10: Reading at the Lingonberry, Decorah, Iowa
• April 11: Presentation at Tallgrass Prairie Center, Cedar Falls, Iowa