Our Bridge to Soil Health Project works with crop and livestock farmers and other professionals that view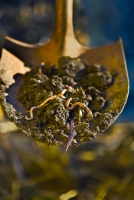 soil as a long-term investment. LSP acts as a bridge between emerging soil health information and local farming practices, thereby uniting a community of farmers as the Soil Builders' Network. Join the network to get regular updates on workshops, field days, on-farm demonstrations and emerging soil health research. Soil health is imperative to our ecological health, and it includes the integration of cover crops, annual crops, perennials and livestock on the agricultural landscape. Soil regeneration is the answer to restoring the soil's natural productivity, improving profits, protecting water quality, building resiliency into crops, sequestering carbon, and helping to reverse the trends of climate change.
Please join us!
Myron Sylling No-Till Fact Sheets
• No-till for Beginners
• No-till & Fertilizer
• No-till Planter Set-up
• Cover Crop Considerations
• Frost Seeding Cover Crops
The Economics of Grazing
LSP has developed a financial analysis of utilizing rotational grazing to manage a cow-calf herd. The fact sheet compares the economic returns of rotational grazing to continuous grazing, as well as corn and soybean production. The advantages to increasing stocking densities through adjustments to grazing rotations and the use of cover crops in a grazing system are also analyzed. The fact sheet includes a list of practical grazing publications. Check it out here.
New! Soil Builders' Video Page
Check out LSP's new series of videos featuring farmers who are utilizing various methods to build soil health profitably. For links to the videos, click here.
Soil Health Podcasts
Check out our series of "Talking Smart Soil" podcasts
'Soil Your Undies' Kit
LSP has available a "Soil Your Undies" kit that allows you to measure soil biological activity in a fun, but practical, manner. To order a kit, see our online store.
New Pocket Guide
LSP's new resource, Soil Health, Water & Climate Change: A Pocket Guide to What You Need to Know, is how available as a pdf or mobile online app.
Soil Health Blogs & Stories
• Blog: Robbing the Farm or Enriching the Farm: Which is the Better Way? (8/9/19)
• Blog: Soil Health: Short-Term Gains, Long-Term Dividends (7/17/19)
• Blog: A Farmer's View of Climate Change (6/27/19)
• Blog: Are You Trying to Grow a Crop in a Biological Desert? (5/15/19)
• Blog: 'Caring for the Land' with Cover Crops, the Roller-Crimper & Spring CC Seeding (2/20/19)
• Blog: Building a Dairy Farm's Resilience Through Soil Health (11/27/18)
• Blog: Soil Health: When the Neighbors Take Notice (9/12/18)
• Blog: Protozoa, Pastures & Profits (9/9/18)
• Blog: Climate Conversation with Farmer Mike Krause: Generational Regeneration (5/1/18)
• Blog: Farmer Loran Steinlage Shares his Soil Health Story of how Trying Times Call for Building Soil Health (12/14/17)
• Blog: Jon Luhman: A Farm Makes Changes to Benefit Soil, Profit & Quality of Life (3/3/17)
• Brownfield Radio Broadcast: Minnesota Organic Farmer Eric Kreidermacher is Trying to Eliminate Tillage (1/19/17)