Our Bridge to Soil Health Project works with crop and livestock farmers and other professionals that view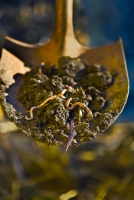 soil as a long-term investment. LSP acts as a bridge between emerging soil health information and local farming practices, thereby uniting a community of farmers as the Soil Builders' Network. Join the network to get regular updates on workshops, field days, on-farm demonstrations and emerging soil health research. Soil health is imperative to our ecological health, and it includes the integration of cover crops, annual crops, perennials and livestock on the agricultural landscape. Soil regeneration is the answer to restoring the soil's natural productivity, improving profits, protecting water quality, building resiliency into crops, sequestering carbon, and helping to reverse the trends of climate change.
Please join us!
Check out LSP's soil health radio ads:
New in Fall 2020: Soil Health Music Videos!
Check out LSP's new soil health music videos: "Got Cover Crops" & "Back to Soil"
Soil Builders' Video Page
Check out LSP's new series of videos featuring farmers who are utilizing various methods to build soil health profitably. For links to the videos, click here.
Soil Health Podcasts
Check out our series of "Talking Smart Soil" podcasts
Soil Health Pocket Guide
LSP's new resource, Soil Health, Water & Climate Change: A Pocket Guide to What You Need to Know, is how available as a pdf or mobile online app.
Soil Health Blogs & Stories
• Blog: Wholesome Family Farms: Jeepers Cats That's Some Healthy Soil! (8/26/21)
• Blog: Red Rooster Ranch: Spreading the Cover Crop Message (11/6/20)
• Blog: Eyes on the Underground Acres: Unearthing the Links Between Soil Health, Farm Profits & Water Quality (11/4/20)
• Article: The Farmer Who Went Underground—Marten Larsen's Cave Explorations Shine a Light on Water Quality and Farming Practices in Southeastern Minnesota (Minnesota Conservation Volunteer, May-June 2020)
• Blog: Farmers, Landowners: Why You Do Not Want to Miss Jonathan Lundgren (2/19/20)
• Blog: Robbing the Farm or Enriching the Farm: Which is the Better Way? (8/9/19)
• Agri News Article: Challenges in karst country farming (8/1/19)
• Blog: Soil Health: Short-Term Gains, Long-Term Dividends (7/17/19)
• Blog: A Farmer's View of Climate Change (6/27/19)
• Blog: Are You Trying to Grow a Crop in a Biological Desert? (5/15/19)
• Agri-View Article: Innovation increases profits, soil health (4/8/19)
• Agri-View Article: Cotter chooses cover crops (4/5/19)
• Blog: 'Caring for the Land' with Cover Crops, the Roller-Crimper & Spring CC Seeding (2/20/19)
• Blog: Building a Dairy Farm's Resilience Through Soil Health (11/27/18)
• Blog: Soil Health: When the Neighbors Take Notice (9/12/18)
• Blog: Protozoa, Pastures & Profits (9/9/18)|
• Blog: Climate Conversation with Farmer Mike Krause: Generational Regeneration (5/1/18)
• Blog: Farmer Loran Steinlage Shares his Soil Health Story of how Trying Times Call for Building Soil Health (12/14/17)
• Blog: Jon Luhman: A Farm Makes Changes to Benefit Soil, Profit & Quality of Life (3/3/17)
• Brownfield Radio Broadcast: Minnesota Organic Farmer Eric Kreidermacher is Trying to Eliminate Tillage (1/19/17)