May 18, 2019, 2 pm-5 pm
12082 Iris Avenue, McGregor, IA 52157
Google Map »
RSVP to Stephanie Petersen, stephanie@iowaorganic.org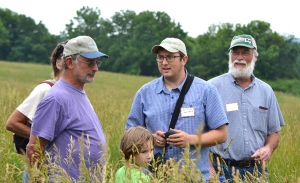 Grazing is for the birds! Join the Iowa Organic Association and the Northeast Iowa Bird Conservancy with hosts Phil Specht and Mary Damm in McGregor, Iowa, for an organic pasture walk and bird watching field day in the afternoon, followed by a potluck and fundraising concert in the evening.
For more information and to RSVP, e-mail Stephanie Petersen at stephanie@iowaorganic.org.
From 2 p.m. to 5 p.m., grazier Phil Specht will discuss cattle grazing on his intensively managed pasture system, as well as his research on nesting bobolinks. Paul Skrade, an ornithologist and assistant professor of biology at Upper Iowa University, and Jon Stravers, a Driftless Area bird conservation researcher, will talk about grassland bird conservation and lead walks in the pastures and adjacent forest to see and hear bobolinks and other grassland and forest birds.
Prairie ecologist Mary Damm will discuss CSP activities implemented on the farm for planting wildlife habitat and lead a walk through a 10-acre reconstructed prairie.
Following the pasture and bird walk, drive a short distance for a potluck at 5:30 p.m., a bird conservation program at 6:30 p.m., and music by Big Blue Sky from 7 p.m.-9 p.m. at the Driftless Area Wetlands Centre, 509 U.S. Hwy. 18, Marquette, IA 52158. Proceeds from the fundraising concert will go to Northeast Iowa Bird Conservancy.
The important topic of managed cattle grazing for grassland bird nesting success will be the focus of the field day. Bobolinks have nested on the pastures and hayfields of Prairie Quest Farm, a 120-acre organic, grass-based farm, for over a decade, and their nesting success has been researched for the past four years.
The Conservation Stewardship Program (CSP) offers a number of activities for working farms that promote livestock grazing for nesting grassland birds and for planting native grass, herbs, shrubs, and trees that provide additional habitat for the birds as well as for pollinating and beneficial insects.
Hosts Phil Specht and Mary Damm hope that guests will learn how an organic, grass-based farm is a working ecosystem and learn practical cattle grazing and pasture management techniques that are conducive for beef and milk production, as well as habitat for the declining, but once more common, grassland birds. They would also like guests to learn how CSP can financially aid in achieving farm management goals of food production, wildlife conservation, and habitat improvement efforts on a working farm.
Directions to Prairie Quest Farm:
From Monona: Drive east on Pleasant Ridge Road (County Road B45) for six miles. Turn right (south) on Iris Avenue and drive approximately 0.5 miles. The farm is on the left (east) side of the road.
From Marquette: Drive west on U.S. Hwy 18 for approximately 0.5 miles. Turn right (north) on Pleasant Ridge Road (County Road B45) and drive five miles. Turn left (south) on Iris Avenue and drive approximately 0.5 miles. The farm is on the left (east) side of the road.
The research project on Prairie Quest Farm is described in Chapter 4 of the 2018 book, Wildly Successful Farming: Sustainability and the New Agricultural Land Ethic.