June 5, 2019, 5 pm-7:30 pm
Cimarron Farm, 901 Lake Elmo Ave. N., Lake Elmo, MN 55042
Google Map »
RSVP to Chloe Richter, 651-430-4027, chloe.richter@co.washington.mn.us
Join us for a free event on Wednesday, June 5, from 5 p.m.-7:30 p.m. The Metro Food Access Network (MFAN) is traveling to Washington County. MFAN is a network of over 400 food access organizations coming from across the seven-county metro region, with the collective mission of advancing equitable access to healthy food for all Twin Cities metro residents.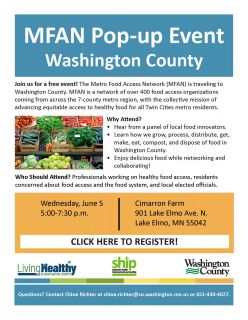 Why Attend?
Hear from a panel of local food innovators.
Learn how we grow, process, distribute, get, make, eat, compost, and dispose of food in Washington County.
Enjoy delicious food while networking and collaborating!
Who Should Attend?
Professionals working on healthy food access, residents concerned about food access and the food system, and local elected officials.

Tentative Agenda:
5 p.m.-5:15 p.m.: Participants arrive, mingle, food is available
5:15 p.m.-5:45 p.m.: Welcome and panel program + field games for youth
5:45 p.m.-6 p.m.: Panel Q & A
6 p.m.-7 p.m.: Food System Activities—participants visit as many as they would like
7 p.m.-7:30 p.m.: Wrap up and close: gather feedback + elected official remarks

Sponsored by Washington County Public Health and Environment, Cimarron Farm, Our Community Food Projects, Second Harvest Heartland, Newport Farmers Market, Washington County WIC, and FamilyMeans.
For more information, contact Chloe Richter at chloe.richter@co.washington.mn.us or 651-430-4027. For an event flier, click here.