July 13, 2019, 12 pm-3 pm
11418 County Road 41, Altura, MN 55910-4153
Google Map »
RSVP to Liana Nichols, LSP, 507-523-3366, lnichols@landstewardshipproject.org
Adam and Amanda Bedtke will host a Land Stewardship Project field day on Saturday, July 13, highlighting grazing and soil health on their farm. The Bedtkes have an organic grazing dairy and have no-tilled and interseeded diverse cover crops into their corn, oat, and hay rotation. Soil health and profitability are key goals—they've never fertilized their corn and they are working to graze every acre of their farm every year.
For more details on the Bedtke Farm, check out this interview with Adam Bedtke on Brownfield Radio.
The farm is located about seven miles east of Plainview, Minn. (11418 County Road 41, Altura, MN 55910-4153)
There will be pulled pork sandwiches (Hidden Stream Farm), 1919 Root Beer, and Organic Valley snacks, from noon to 1 p.m., ahead of the field day. Free will offering accepted.
For more information, contact LSP's Liana Nichols at 507-523-3366 or via e-mail. To view the field day flier, click here. For more on LSP's soil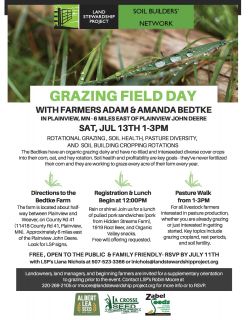 health work, including details on field days and workshops, click here.
Managing for Stewardship: Invitation to Non-operating Landowners & Beginning Farmers
Landowners, land managers, and beginning farmers are invited to join LSP at the Bedtke farm for one hour of early programming focused on orienting you to the grazing operation. We will learn about the basics of a grazing operation and rotational grazing and get a chance to ask some questions about land management before the field day.
We ask that you to attend the entire field day to benefit fully from this event. For more information on this "Managing for Stewardship" event, please call LSP's Robin Moore at 320-269-2105 or send her an e-mail.