November 21, 2019, 9 am-3 pm
Stewartville American Legion, 1100 2nd Ave. NW, Stewartville, MN 55976
Google Map »
RSVP to Robin Moore, 320-269-2105, rmoore@landstewardshipproject.org
This event has been canceled. For more information and resources for non-operating landowners, please contact Robin Moore at 320-269-2105.
Landowners: Would you like to see soil-building practices on your rented acres but aren't sure where to start? Farmers: Do you want to build soil on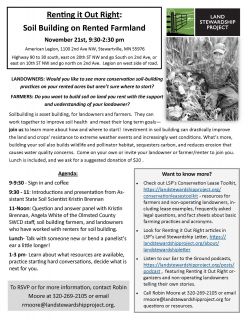 land you rent and are looking for ways to get support and understanding from the landowner? The Land Stewardship Project (LSP) is holding a "Soil Building on Rented Farmland" workshop on Thursday, Nov. 21, from 9:30 a.m. to 2:30 p.m., at the American Legion in Stewartville (1100 2nd Ave. NW). Lunch is provided. To reserve a spot or for more information, contact LSP's Robin Moore at 320-269-2105 or via e-mail.
Soil building is asset building. Investments in soil building can drastically improve the land and crops' resistance to extreme weather events and increasingly wet conditions. What's more, building your soil builds wildlife and pollinator habitat, sequesters carbon, and reduces erosion that causes water quality concerns. This workshop will provide details on how farmers and landowners can work together to improve soil health and meet their long-term goals.
There will be presentations by state and local soil health experts, along with a panel discussion involving local innovative farmers as well as landowners who have worked with renters to improve their land's soil health. Resources will be available for farmers and landowners who want to start taking the next steps toward building resilient, profitable soil. There will be plenty of opportunities to talk with experts, farmers and landowners about the best way to build soil on rented land.
For more LSP resources on developing lease agreements that build soil health, see www.landstewardshipproject.org/stewardshipfood/conservationleases.