February 6, 2020, 12:30 pm-1:30 pm
UW Eau Claire-Barron County campus, 1800 College Drive, Rice Lake, WI 54868
Google Map »
RSVP to Linda Tollefsrud, tollefla@uwec.edu
Are you from a farming family? If not, you likely still know people who are farmers and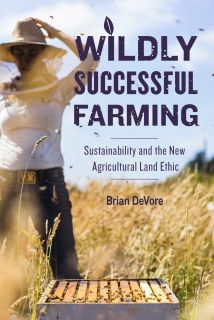 appreciate the role they play in Wisconsin's economy. The Thursdays at the U Lecture and Performance series session on Thursday, Feb. 6 will feature Brian DeVore speaking about "Wildly Successful Farming: Public Policy and the New Agricultural Land Ethic." He will describe farmers in Wisconsin, Minnesota and across the Midwest who are balancing profitability and food production with environmental sustainability and a passion for all things wild.
For details on this event, click here.
These farmers are using innovative cropping and livestock production techniques and strategies to develop their "wildly" successful farms as working ecosystems and are adhering to the principles of the "land ethic," which Aldo Leopold discussed in the 1949 book, A Sand County Almanac. DeVore will discuss the role public policy can play in promoting and supporting the kind of regenerative agriculture that produces numerous environmental and economic benefits in local communities.
DeVore is the editor of the Land Stewardship Letter and a journalist with 30+ years of experience writing in-depth articles related to agriculture, the environment and natural history. In addition to writing for multiple print and online outlets, he published Wildly Successful Farming: Sustainability and the New Agricultural Land Ethic (University of Wisconsin Press) in 2018. Previously, he published book chapters including The Farm as Natural Habitat: Reconnecting Food Systems with Ecosystems (Island Press, 2002), and Food Fight: The Citizen's Guide to the Next Food and Farm Bill (Watershed Media, 2007).
This and other talks in the spring lecture series will begin at 12:30 pm, and will occur in the Blue Hills Lecture Hall, Ritzinger 234 on the UW Eau Claire-Barron County campus, located at 1800 College Drive in Rice Lake. DeVore's talk is made possible by funding from both the campus foundation and from the Tommy G. Thompson Center on Public Leadership.