January 30, 2020, 10 am-3 pm
Ridgeway Community Center, 690 County Street, Ridgeway, IA 52165
Google Map »
RSVP to Liana Nichols, 507-523-3366, lnichols@landstewardshipproject.org
The Land Stewardship Project (LSP), along with the Winneshiek Soil and Water Conservation District, will host a workshop called, "Cover Crops, No-Till & Grazing: Evaluating the Economics and First Steps to Improving Soil Health" on Thursday, Jan. 30, from 10 a.m. to 3 p.m., at the Ridgeway Community Center. It will feature presentations by southern Minnesota farmers Grant and Dawn Breitkreutz, Tom Cotter, and Myron Sylling, and a Northeast Iowa farm panel featuring farmers Mark and Ethan Imoehl, Jerome Fulsaas, Parker Beard, and John Lubke. The cost is $15 per person ($10 for an additional farm partner, and $30/family), which includes a noon meal featuring local foods. To register by Jan. 28, contact LSP's Liana Nichols at 507-523-3366 or via e-mail, or the Winneshiek SWCD at 563-382-4352 (ext. 3).
This workshop will also be offered in Elgin, Minn., on Jan. 29.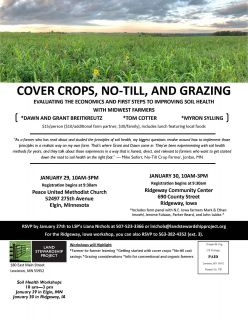 Between the testimonials of pioneering farmers like Gabe Brown and the media buzz and new research around the benefits of soil health as it relates to farm profitability, area farmers are looking to take steps to build soil through practices like no-till, cover cropping, and rotational grazing. Yet, new practices bring their share of challenges, successes and even failures. The farmers presenting at the Jan. 30 workshop will address this learning curve with stories from their own operations.
According to Todd Duncan, USDA/NRCS District Conservationist based in Decorah, this workshop presents a great opportunity for farmers to learn from their peers. "There is more and more interest in building soil health these days. This event is a chance for area farmers to hear from farmer-speakers in southern Minnesota and from northeast Iowa that have been achieving success with cover crops, no-till and intensive rotational grazing."
In their 20 years of farming in Redwood County, the Breitkreutzes have made great strides toward regenerating their soils by practicing no-till row cropping and managed rotational grazing, as well as diversified cover cropping. They believe that soil health and regenerative agriculture should not be considered an expense—everything they do on their land has an economic return plus a soil health benefit.
Cotter, from Austin, raises no-till and strip-till conventional corn and soybeans, as well as sweet corn and peas, and is transitioning some land to organic. His family also raises beef cattle and they incorporate practices such as cover crop grazing, interseeding covers into corn, and growing a warm season cover crop. Sylling, who farms near Spring Grove, is a long-time cash grain producer who has been no-tilling for 20 years and using cover crops intensively for the past seven years. On the panel, Imoehls, Fulsaas, Beard, and Lubke will all share their own experiences with practices like cover crops, no-till and intensive grazing.