January 20
RSVP to Brian DeVore, LSP, 612-722-6377, bdevore@landstewardshipproject.org
If you are a Community Supported Agriculture (CSA) farmer operating in Minnesota or western Wisconsin, the Land Stewardship Project invites you to be listed in the 2020 edition of LSP's Twin Cities, Minnesota & Western Wisconsin Region CSA Farm Directory.
An online version of the CSA Farm Directory will be available by Feb. 1 at www.landstewardshipproject.org/stewardshipfood/csa. On that web page, you will find an online form for submitting information about your farm.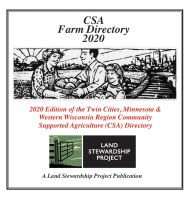 The deadline for submitting listings is Monday, Jan. 20. The listing fee is $15 for LSP members and $20 for non-members. There is a 250-word limit for listings.
For more information on having your farm listed, contact LSP's Brian DeVore at via e-mail or 612-722-6377.