August 14, 2020, 1 pm-2:30 pm
Zoom Online Event
RSVP to Shona Snater, LSP, ssnater@landstewardshipproject.org
Rod Nelson has been no-till farming for the past 40 years near Chatfield, Min., and has been recently incorporating cover crops. This spring, he no-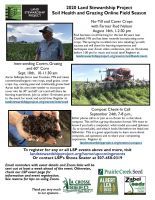 tilled corn into standing rye with success and will share his learning experiences and techniques over a Land Stewardship Project Zoom video conference. Join us 10 minutes before 1 p.m. for music and social time!
Questions? Contact LSP's Shona Snater at ssnater@landstewardshipproject.org.
To view the flier for this and other LSP soil health events, click here.