If you are the sort who likes to be outdoors, self-reliant and working close to the land, what Anna Racer and Peter Skold did for five summers might sound ideal. They worked at a camp in northern Minnesota where they took teenagers into the wilderness for six weeks at a time. But there comes a time when life is pulled in a different direction by the call of the community.
"We were always going on trail or coming off trail and there wasn't much stability," says Anna, 27, while taking a break from greenhouse work on a blustery morning this spring. "We were searching for some kind of community that we could settle down in while still working hard outside and enjoying that aspect of it."
That need for roots has drawn them out of the North Woods to a 40-acre farm within an hour of Minnesota's Twin Cities, where they raise vegetables for three-dozen people. Along the way they've made some important community-building stops: taking college classes on organic agriculture, apprenticing on farms and spending time with other beginning as well as established farmers via the Land Stewardship Project's Farm Beginnings course.
All this has landed them in the midst of a community centered around healthy, local food, and people interested in producing and consuming that food.
"It's neat because it's a spider web of a community," says Peter, 28. "That's been a huge pull for us. We just went to a brunch where all the people there were young up-and-coming farmers. There were 15 people there."
"We're really excited to be part of that," adds Anna.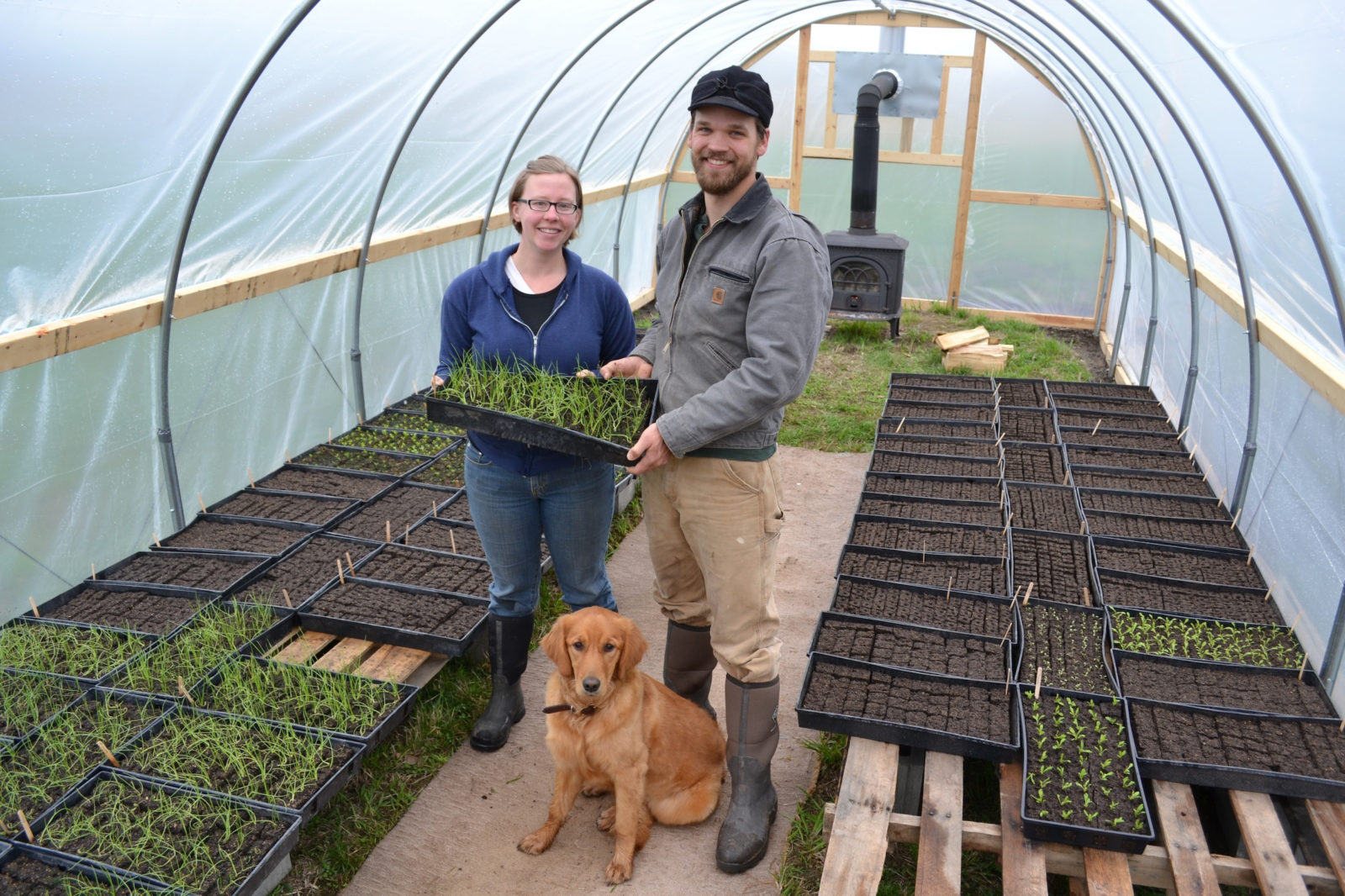 Emerging from the Woods
This connection with a local community started overseas. Anna was studying Italian at the University of Minnesota five years ago when she worked as a WWOOF (World Wide Opportunities on Organic Farms) volunteer on an Italian farm. That piqued her interest in farming, and in 2009 she took an organic vegetable production class under U of M horticulture professor Bud Markhart.
Through that class she met Paul Burkhouse, who, along with Chris Burkhouse, owns and operates Foxtail, a pioneering Community Supported Agriculture (CSA) farm in Osceola, Wis. CSA is a system where farmers sell shares in their operation before the growing season. In return, the farm provides a weekly delivery of fresh produce. Of all the models of farming, few are as community-oriented as CSA.
After graduating from college, Anna pursued an internship at Foxtail, where she learned the nuts and bolts of what it takes to raise vegetables for 300 eaters week-in and week-out.
"I realized once I was there that this is what I was looking for," Anna recalls. "I really like the CSA model. I think it's an effective way for farmers and consumers to come together."
Peter came to farming via an even more circuitous route. After getting an undergraduate degree in textile science ("My dream was to design cool outdoor gear."), he enrolled in the nutrition and community health program at the U of M. During that time, he took a class at the U of M that gave him a chance to work at a student organic farm on campus.
"I realized there was a real strong connection between what we were doing in our public health classes and what the student organic farm class was trying to do in terms of giving people some hands-on experience outdoors, growing food," says Peter. "I decided I didn't want to write a grant for a program that would increase someone's healthy serving of food. What I really wanted was to produce that healthy food for people."
Eventually Anna and Peter both interned at A to Z Produce and Bakery in Stockholm, Wis., owned and operated by Ted Fisher and Robbi Bannen. The farm offers CSA shares but also does a "pizza night" and produces baked goods.
The young farmers say that while Foxtail provided the basics of producing lots of CSA shares on a consistent basis, A to Z introduced them to the lifestyle of operating a diverse agricultural enterprise.
While at A to Z, they were given a chance to run their own 1-acre, 23-member CSA on neighboring land while helping with pizza night and selling at a local farmers' market. Fisher and Bannen also introduced them to Farm Beginnings, an LSP training course taught by established farmers that focuses on business planning, marketing and goal setting. It turned out two other interns at A to Z, Betsy Allister and Andrew Ehrmann, were enrolling in an upcoming class. So during the winter of 2009-2010 the two couples traveled to Winona in southeast Minnesota for twice-a-month classes.
Peter says the class sessions dovetailed nicely with the field experience they had been getting at the U of M, Foxtail and A to Z. The course also forced them to sit down and write a business plan together—the timing was particularly good because they were planning their wedding that winter.
"I think it was a really good process to go through together just to get the base groundwork set as business partners and as a married couple," says Peter.
And Farm Beginnings' focus on goal setting in some ways was a natural follow-up to the wilderness trips Anna and Peter had planned and led in northern Minnesota.
"A big part of the camp's program is goal setting, following through on our goals, and then setting new goals," says Peter. "Farm Beginnings helped us go through that goal setting process in a more formal setting."
Fast Track
After graduating from the class, Anna and Peter's farming plans started to crystallize: they decided they wanted to be on their own land within an hour's commute of the Twin Cities by fall of 2013. That way they would be close to friends and family, they could maintain many of their current CSA members, and they could recruit new members from the Twin Cities region.
Those plans were put on hyper-drive in 2011 when farm Beginnings classmate Betsy Allister learned about a 40-acre farm south of the Twin Cities. The location was ideal in more ways than one: not only would it be close to markets, but there are numerous other beginning farmers living in the region, including Allister and Ehrmann, who farm 20 minutes away in Northfield. In addition, the house is livable and the soil rich.
"We knew how unique this place was," says Peter. "Our commute to our market has been cut by more than half."
So last fall they bit the bullet, buying the farm and transferring their CSA operation to just outside the town of Webster. The couple concedes that only after they purchased the farm did they learn just how even more perfect it was for what they had in mind. It turns out it's been certified organic since 2001, and before that it was growing grass while enrolled in the Conservation Reserve Program. In effect, the land has not been sprayed in over 30 years. A neighbor has agreed to keep raising organic corn and soybeans on the land while Anna and Peter concentrate on raising vegetables on a few acres.
The young farmers express more than a little amazement at how much their farm dream has advanced in two short years. Being landowners and running a growing business can be quite a change of pace after tramping around in the wilderness.
"But I think we came into this at the right time for these opportunities," says Anna.
Their operation, Waxwing Farm (www.waxwingfarm.com), is selling shares to 40 members this year, with the goal of eventually growing the farm to 100 members. They figure that's the size at which the operation can be self-sufficient (Peter works part-time as a carpenter). They are also selling to a farmers' market. The couple took advantage of the early spring this year to erect a low-cost greenhouse, and they plan on applying for USDA Environmental Quality Incentives Program funds to put up a season-extending high tunnel.
With their current location, Anna and Peter feel they can take advantage of a key marketing niche: people who live in the Twin Cities region's southern suburbs.
They've been in the area less than a year, but Anna and Peter are already looking at how they can help other young people feel rooted in the community. They are currently mentoring Carleton College students who are interested in getting hands-on experience in the fields.
"We recognized that we learned from so many people and that experiential learning helped us going all the way back to camp," says Peter. "It's neat now to pay that back ourselves."