In Boone County, Iowa, fertile farmland stretches as far as the eye can see. But as our van of Land Stewardship Project members rounded the corner on a rural road, we saw a disturbing sight: miles of black, vacant land where the landscape has been shaved to make way for the Dakota Access Pipeline.
On Sept. 22, LSP members traveled to this area to stand in solidarity with our allies at Iowa Citizens for Community Improvement for the Midwest Mobilization to stop the Dakota Access Pipeline. People from across the Midwest gathered at one of the pipeline's construction sites to stand up not just against this pipeline, but against an extreme energy extraction industry that profits at the expense of our land, water and communities.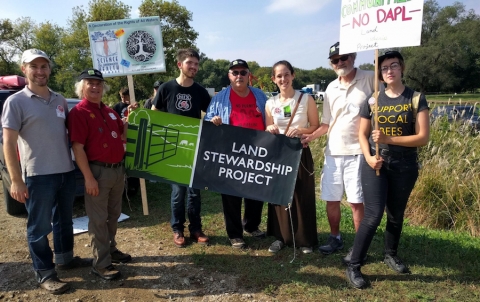 The Dakota Access Pipeline is a 1,172-mile crude oil pipeline that would stretch from the Bakken fields in North Dakota, through South Dakota and Iowa, to Illinois. As the pipeline crosses farmland and public water sources, it threatens to wreak havoc on the very resources that are essential to our survival. The pipeline, however, is only one project in an extensive network that includes leaking pipelines, exploding rail cars, and fracking sites that put precious water in danger. The fossil fuel industry has stretched its influence and risk throughout our Midwestern communities.
At LSP, our members are not new to standing up to this destructive industry. In southeastern Minnesota, members are engaged in the fight against frac sand mining. Frac sand mines destroy farmland, pollute air and water, and extract wealth from local economies. The frac sand is then used to supply hydrofracking operations, which produce the same fracked oil that would flow through the Dakota Access Pipeline. From every grain of frac sand that is mined in Minnesota to every barrel of oil that is shipped across Iowa, we cannot allow the continued abuse of our rural communities.
LSP is proud to add its voice to the resistance against the Dakota Access Pipeline. We choose to protect our rural communities from an industry that puts corporate profits ahead of the health of the land and the people. We choose to stand up against projects that contribute to climate change. We choose, instead, to build sustainable, healthy and just rural communities.
There are many ways to join the movement to help stop the Dakota Access:
• LSP has chosen to donate to the Legal Defense Fund for the Standing Rock Camp, where thousands of Native Americans have gathered to resist the pipeline in North Dakota. Members of the camp are engaging in direct action to stop the pipeline's construction, and they need help with costly legal fees. Click here to donate.
• MN350 is organizing a bus to the Standing Rock Camp on Friday, Sept. 30. The bus is full, but you can click here to be added to the waiting list, or click here to sponsor a rider.
• If you can't make it to Standing Rock, you can donate supplies. The camp has asked for sleeping bags for sub-zero temperatures (in good shape), warm winter gear, and gift cards to Lowe's, Menards, or Verizon. If you have any of these items that you'd like to donate, e-mail kdoody@landstewardshipproject.org.
LSP organizer Katie Doody can be contacted at 612-722-6377 or via e-mail.