Last month, I attended a hearing held by the Minnesota House of Representatives Mining and Outdoor Recreation Policy Committee, which was my first committee hearing at the state Capitol. It was an eye-opener to witness how the chairman of the committee, Rep. Tom Hackbarth, rolled out the red carpet for corporate interests and treated citizens as a nuisance.
Committee members held what Hackbarth billed as an "informational hearing on silica sand mining," but they invited testimony only from representatives of the sand mining industry and state agencies, not from the citizens whose air, water and communities are most impacted by silica mining and processing. It is wrong when the experience of those of us who live where the frac sand industry operates is not deemed worthy of serious consideration.
I went to Saint Paul because it's important for citizens to make it clear that, in a democracy, it's "we the people" who legislators are elected to be working for, not corporate lobbyists.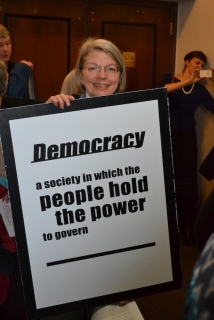 I was joined at the hearing by people from other rural communities, such as Saratoga Township near St. Charles and Hay Creek Township near Red Wing, as well as Wabasha and Lake City. Dozens of us held signs, calling on Hackbarth not to shut out rural voices and to allow citizens equal time.
During the hearing, the frac sand representatives criticized state regulations that are in development, including regulations to protect air quality and a common-sense requirement for in-depth environmental review on proposed frac sand mines that are larger than 80 acres.
While Hackbarth frequently said that the proceedings were running behind schedule and urged brevity, the frac sand representatives and lobbyists were allowed to testify without limit for more than an hour (with one lobbyist even coming back to testify twice), leaving about one half hour for all agency testimony and any citizen input.
At the very end of the agenda, Rep. Hackbarth decided to reschedule the Department of Natural Resources testimony and gave 15 minutes to citizens. While this was hardly a fair amount of time, several rural Minnesotans made great use of it and gave important informational testimony, such as describing the fragile and porous karst geology of southeastern Minnesota and the need for strong standards to protect it. This was the kind of information the committee should have sought out in the first place, not treated as an afterthought.
Wabasha City Council member Lynn Schoen testified that in a democracy citizens should have a seat at the table, and she also made the critical point to the legislators that unlike with mining on the Iron Range, southeastern Minnesota is often dealing with outside companies that have little stake in the communities they affect.
Many of us in southeastern Minnesota think that what is truly needed to protect our region is a moratorium or a ban on frac sand development. But until that is achieved, laws passed in 2013 do require useful measures to help protect our communities from being harmed by frac sand extraction and processing (including no silica sand mining within one mile of designated trout steams without a special permit) and they direct state agencies to develop new rules applying to this industry.
It is now clear that frac sand companies will do their utmost to weaken or prevent these new standards from being enacted. Instead of accepting company self-promotion at face value while leaving out input from affected citizens, our legislators must hear from us, the people they're intended to represent.
Land Stewardship Project member Wendy Larson lives in Winona, Minn. For more on LSP's work related to the frac sand mining issue, click here.