ORONOCO, Minn. —  Southeastern Minnesota farmer Angela Smith had an important message for lawmakers when she traveled to the nation's capital earlier this month: small and diversified farmers, as well as beginning farmers, need much better access to crop insurance in order to survive and thrive at a time of extreme climate change. Smith, who is a member of the Minnesota-based Land Stewardship Project (LSP), joined farmers and other sustainable agriculture advocates from across the country in pushing for a 2023 Farm Bill that supports crop insurance reform, conservation, climate-smart agriculture, small meat processing, and publicly-funded sustainable agriculture research. The policy fly-in was hosted by the National Sustainable Agriculture Coalition (NSAC) and included more than seven meetings with Congressional leaders and USDA officials. Delegations from Minnesota, Arkansas, Georgia, Iowa, Michigan and Pennsylvania were involved in the fly-in.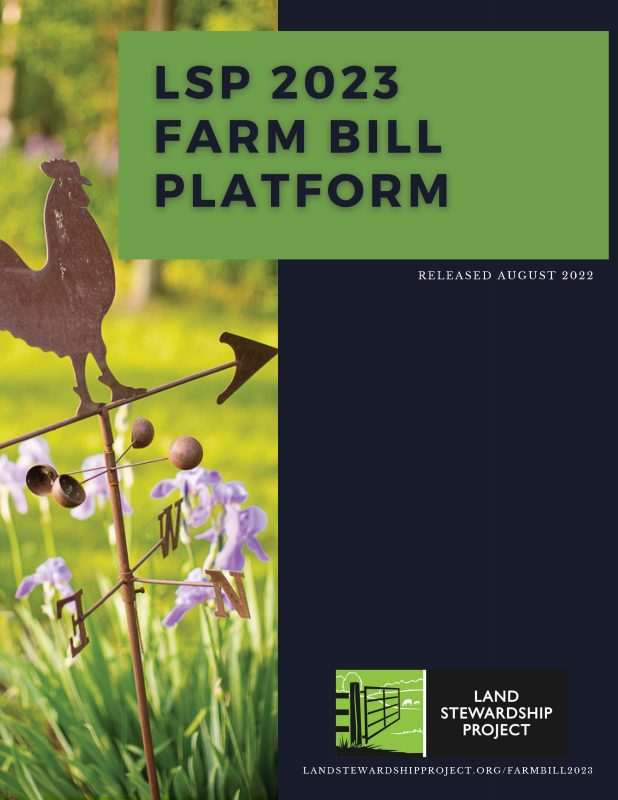 "I went to D.C. because I wanted a chance to talk to legislators about why having access to crop insurance that supports diversified, small farms like ours is essential," said Smith, who owns Middle Fork Farm, a fruit, vegetable and herb operation located near Oronoco along the middle fork of the Zumbro River. "Our farm has experienced weather extremes from flooding to drought over the past several years and recently signed up for the USDA's Micro Farm crop insurance program so that we could keep on farming during these unpredictable times. I hope that the next Farm Bill will improve this program so that more small farms feeding their local communities can survive and thrive."
Smith and the other fly-in participants voiced their support for specific pieces of legislation, such as the Agriculture Resilience Act and the Strengthening Local Processing Act. The Farm Bill, which is renewed every five years, controls everything from what is grown in states like Minnesota to how much access to food low income families have. The current ag law is set to expire Sept. 30, and lawmakers are currently drafting its possible replacement. Minnesota has the potential to have an outsized impact on the shape of the 2023 Farm Bill, given that four members of the Congressional delegation serve on legislative agriculture committees.
Sarah Goldman, an LSP organizer who also participated in the fly-in earlier this month, said it's become clear in recent years that farmers in all regions of the country are increasingly confronted with climate-related challenges such as extreme weather events, pests, and hotter and drier conditions. These challenges affect productivity and livelihoods and take a toll on natural resources, and farmers urgently need greater support and access to federal programs in order to implement effective solutions, she said.
"Lawmakers need to hear the voices and stories of farmers and advocates like Angela so they can craft a Farm Bill that leverages the power of our nation's food and agricultural system to seek solutions that ensure that America is resilient and healthy for generations to come," said Goldman. "LSP farmer-members like her are resilient, innovative entrepreneurs, but they deserve additional support to allow them to adapt to the growing climate and market disruptions that have become widespread over the past five years."
-30-